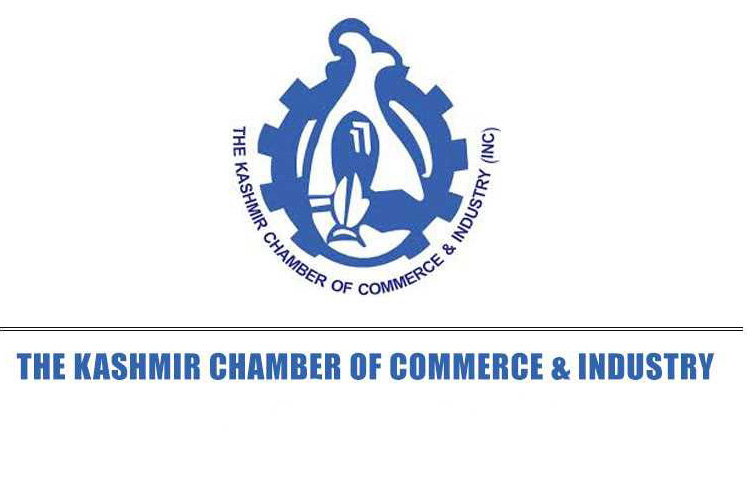 Srinagar, Dec 28: Kashmir Chamber of Commerce & Industry (KCCIc) Monday stated that the business community of Kashmir was undergoing a period of unprecedented stress and turbulence and heading towards financial instability.
The Financial Package announced by Manoj Sinha, Lieutenant Governor, Jammu & Kashmir under no: FD-VII-Gen(120) R&R Dated: 25-09-2020 was a ray of  hope for the  Business Community, KCC&I spokesperson said.
But, KCC&I said at the same time most of the announcements in the package are still awaited.
The spokesperson stated that the Committee has recommended an interest subvention of 5% for six months amounting to Rs. 1089.24 Crore, partial waiver of fixed electricity charges for one year amounting to Rs. 80 crore, waiver of water charges for six months costing Rs. 25 crore , time bound  One Time Settlement (OTS) , capital infusion in accordance with the Atma Nirbhar Bharat Abhiyan, replacement of old vehicles and insurances support costing Rs. 50 Crore to the transporters support to artist and others costing Rs. 108.75 crore which  are partially  implemented and needs immediate  attention from the J&K Government.
Various committees were supposed to be constituted like Committee for settlement of Bank, Finances and industry issues with association representatives as members to be chaired by Finance Department, Committee in each province/district involving members of the business association to address their issues which shall meet every month at District level and every two months at provincial level to settle issues of the business community. The Committee shall have a representative from I&C/ Finance/Bank as its members but the committees were not constituted yet which results in huge problems faced by the industrial sector.
The removal of Lakhanpur Toll post has hit the business very badly and a committee was formed to ascertain its effects on the industries but the report has not still come out.
It is a well-known fact that our Export performance over 05 years has deteriorated to the worst level. To encourage exports from J&K we need to support at all levels in manufacturing, artisans and weavers. In our recently meeting held with Lt. Governor  was kind enough to ensure KCC&I delegation  that  Government constitute a Export Promotion Board   for all Export level issues but  till date  no Board was  constituted.
Tourism sector in general and Tour Operators in particular are running in to the most difficult time due to business losses since August, 2019. In  the above said Financial Package subsidy for  installation of the bio-digesters in the Houseboat, pending payments to the  hotels utilized for quarantine facility, issues related to  permission for  renovation of Hotels / Houseboats with the  Committee of experts on LAWDA, simplification of  process for renewal of licenses of the  Houseboats, extension  of   Tourism  incentives scheme for next 15  years for Travel Agents and Tour Operators,  Power Tariff at par  with Industries are  still pending with the  concerned authorities.
In the meantime we appreciate the extension order for renewal of fitness and registration papers for Transports till 31st March, 2021. But they have to submit the documents online and as you are well aware  that  4G internet is not working in Kashmir and at 2G internet speed it's somehow difficult for them to upload the documents online.
The KCC&I urged authorities to waiver off all the penalties.  The transport sector must be waived off from paying passenger tax, Token tax, Fitness charges and permit fees for the last seventeen months besides complete compensation of insurance for the last one year.
Pertinently, GST Council and  many  more issues which KCC&I submitted to  J&K  Government are referred  to by the Centre Government  needs to  be  followed up by  concerned departments which we believe are  urgent in nature and require immediate consideration.
Various other issues were raised by the KCC&I with the State and Central Government being faced by the Industrial and other sectors which needs to be addressed so that the problems faced by the industries and other sectors are taken care off.
The Kashmir Chamber of Commerce and Industry urged the Lt. Governor to intervene so that these problems will be redressed as soon as possible.