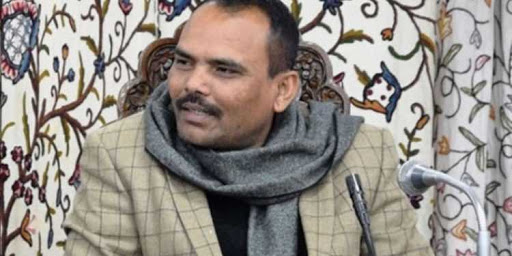 Srinagar, Dec 28: Amid allegations of horse-trading by the political parties, the divisional administration Kashmir on Monday said that it will verify whether the anti-defection law can be enacted in Jammu and Kashmir.
Talking to reporters on the sidelines of the Oath ceremony of recently elected DDC members at SKICC here, Divisional Commissioner Kashmir, P K Pole when asked whether the law can be imposed here, said that he will have to check it from the Rural Development Department (RDD) department first.
He further stated that the DDC members who took Oath today will have the powers to prepare the final list of the funds that will be allocated to their respective districts. "The final draft for the allocation of the funds will be approved of DDC members," he said.
Pole added that people will no longer have to visit his or Deputy Commissioner's (DC) office for their issues like Power, roads and Water and other developmental issues, adding that they can directly approach their elected representative to get their works done.
Pole said like Maharashtra, the DDCs will have the adequate powers, but it would take time, adding that the DDC members may face hardships for some time till the proper and necessary arrangements will be made for them especially their own offices and other logistic arrangements be made by the administration.
"I wish all the DDC members luck and pray for them that they will be able to deliver whatever they have promised to the people in their respective constituencies," he said.
Earlier, 13 out of 14 DDC members, who were elected recently in the maiden District Development Council (DDC) polls in Srinagar, the summer capital of Jammu and Kashmir, took Oath today at SKICC.
It was told during the function that one of the DDC members couldn't attend the function due to her deteriorating health condition.
Div Com Kashmir further stated that the completion of three-tier Panchayati Raj System has realized the dream of Mahatma Gandhi's 'Gram Swaraj'.
While addressing the gathering, the Div Com congratulated the elected members and said that the DDC election has realized the dream of Mahatma Gandhi's Gram Swaraj adding that with this the dawn of new development in J&K has begun.
He assured the DDC members that the administration will extend all logistic support to them at all levels. He expressed hope that they, the DDC members, will resolve the developmental issues of the people at grass root level. He said that from now onwards people need not to approach divisional or district administrations for the purpose of basic amenities and can apprise their respective constituency members about their issues and subsequently the DDC members shall facilitate them in fulfilling all their developmental needs.
Regarding the availability of funds to District Developmental Councils, the Div Com said that the annual budget of districts from next financial year will be prepared and decided by DDC members.
Meanwhile, Div Com also distributed mementos among the DDC members of district Srinagar, who took oath during the event—(KNO)