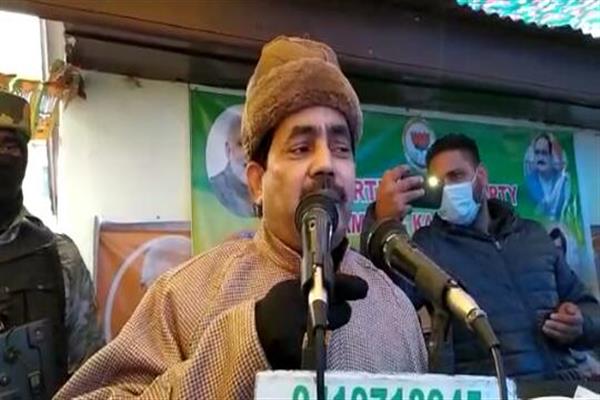 Srinagar, Dec 27: Bhartiya Janta Party (BJP) senior leader Syed Shahnawaz Hussain Saturday said that those opted the path of militancy in Kashmir are our own people besides citizens of the country and appealed them to shun the path of militancy.
The former Union Minister said that those have taken the path of militancy in Kashmir valley are our own people.
"Those wo have taken up arms in Kashmir valley are our own people and also citizens of the country", he said and appealed local militants to shun the path of violence and come forward in the contribution of nation building.
He also added that militants natives of Pakistan are however being dealt as per law of the land.
"Pakistan based militants are also being offered to surrender but after their refusal they are being taken into task sternly", he said.
"I have brought PM Narendra Modi's pen to local youth and I appeal them to desist from taking up AK-47 as people of J&K are mostly peaceful", he said and added "handful of people in valley are provoking youth and misinterpreting the message of Islam".
About the allegation of PDP chief Mehbooba Mufti of barring her from campaigning during recently held DDC polls, the BJP leader said "Mehbooba Mufti had created only drama to get the attention of media. I too deferred programs on that day due to security concerns but I didn't resort to fuss", he said.
While lashing out at regional mainstream political parties particularly PDP chief Mehbooba Mufti, the BJP leader said that they provoked children of poor families to militancy to keep the pot hot but sent their own kith and kin abroad for making their future bright.
About recently concluded DDC elections, he said that this was the first time that any election in Jammu and Kashmir was held in a peaceful manner. "I congratulate State Election Commissioner and local administration for conduct of incident-free elections across J&K", he said.
Hussain continued that this is not an issue which party bagged more votes. "People voted in large numbers, they came out despite multiple odds. I want to clear here that it is a big-win of democracy", Shahnawaz Hussain said. He asserted that BJP will change the fate of every citizen of J&K.
To a query, he said the allegations of Congress party are aimed to misled people of the country.
"Congress has always leveled allegations on BJP, and this is not their first bid. They stand with People's Alliance for Gupkar Declaration (PAGD). They are fond of rest-keeping. They don't bother to visit grassroots level workers.
However BJP from top to bottom are workers party, it is why I'm here for a month to supervise and monitor the party affairs during DDC polls. I visited each and every village of Kashmir and met people there", he said.
Terming the conduct of DDC polls "historical" achievement, the BJP leader said that if farmers protest were not held, the DDC polls would have been the prime debate on national and international media. He added people of J&K have suffered immensely and tested Abdullah's, Mufti's & Congress and now they have reposed their faith on BJP which will not disappoint their hopes.
"I visited all districts of Kashmir. People welcomed me wholeheartedly and I assure them that BJP will change their fate and destiny. The party will ensure good roads, streets and also will bring smile on their disappointed faces", he said and added that Kashmir is a God-gifted land full of resources and talent and I assure people of J&K that in days to come you wouldn't be employment seeker but employment giver.
He added that some were saying that no person will hold tricolor in Jammu and Kashmir but during DDC polls it was only tricolor & BJP's flag which were hosted in every part of Kashmir.
To a query about the delay of Assembly polls in J&K, he said that Home Minister Amit Shah had assured people of Jammu and Kashmir on the floor of house that they would not be left unattended. "Right now process of delimitation is under way and once it will come to an end, hopefully process for conduct of Assembly polls will also be taken up", Shahnawaz Hussainn said.
When asked why some people broadcast wrong perception about Kashmir on national media and through other means, he said I appeal to those people who carry forward "unfounded" things about Kashmir, to come physically here and don't propagate any incorrect without visiting this paradise. (KNS)