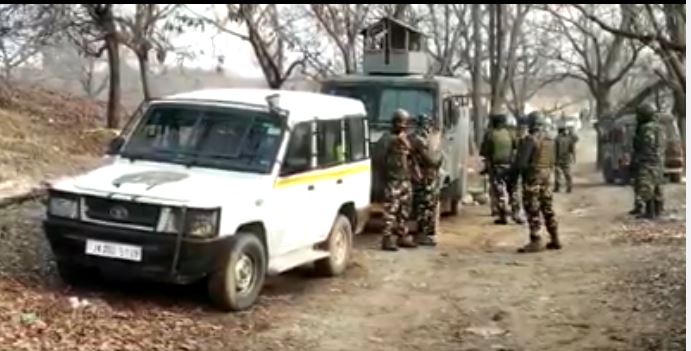 Srinagar, December 24: Two Jaish-e-Muhammad (JeM) militants including a 22-year-old ace footballer from Sopore area were killed in an fierce gun battle at Wanigam Payeen village of north Kashmir's Baramulla district on Thursday
A police official said that acting on a tip off, joint teams of police, army's 29 RR and the 176Bn CRPF cordoned Wanigam Payeen village in the morning hours and launched an extensive search operations. "During the searches, a spot was zeroed on where militants were hiding. When forces reached close to the spot, the hiding militants opened fire triggering an encounter," he said.
However, the hiding militants tried to change location and there was a lull for a few hours after which a contact was again established. "In the ensuing gunfight, two militants were killed," the police official said.
He said that one of the slain was identified as Abrar alias Langoo, a JeM militant and a Pakistani national. "Second slain militant was identified as Amir Siraj from Adipora, Sopore," the official.
Amir was missing since June 24 this year. Sources said that he disappeared after leaving his maternal uncle's house at Adipora, Sopore, to play football. "Amir had switched of his mobile phone and couldn't be contacted by any of his family members," they said. Amir, 22, was an ace footballer and was known for his skills in the play field.
A police spokesman said that the militants were hiding in the house of one Mehraj-ud-din Wani and that they were given opportunity to surrender. "However, they fired indiscriminately upon the joint search party, which was retaliated leading to an encounter," he said.
As per police records, both the killed militants were involved in several crime cases including attacks on security forces and civilian atrocities.
"Incriminating materials including arms and ammunition were recovered from the site of encounter. All the recovered materials have been taken into case records for further investigation and to probe their complicity in other crimes," the police spokesman said.
He said that people are requested to cooperate with police till the area is completely sanitized and cleared of all the explosive materials, if any—(KNO)