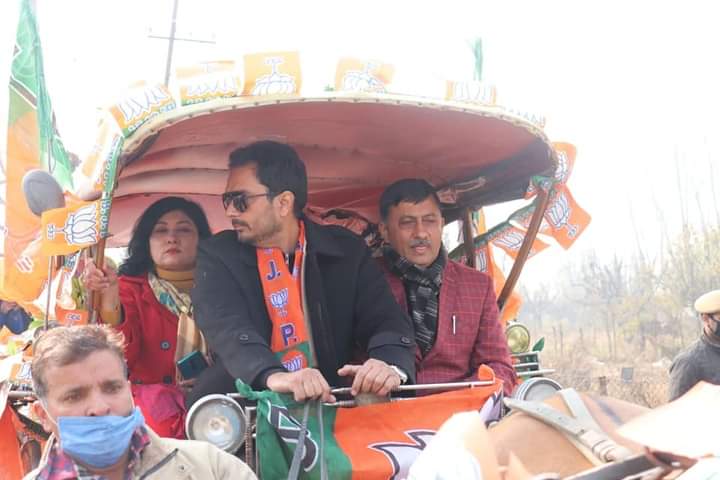 Srinagar, Dec 02: For the first time in the past 30-years,  once a hot-bed of militancy, Sopore area of north Kashmir's Baramulla district today witnessed Tonga rally organized by the BJP leaders and local Tonga wallas of the area as part of the election campaigning with regard to ensuing District Development Council (DDC) elections.
Abdul Majeed, a Sarpanch from Mabugh area of Sopore, where the rally was held, said that it is for the first time in the past 30 years that a Tonga rally was held in favour of BJP in the area.
"This is a message of peace and in this rally dozens of Tonga wallas participated. We want to tell the people to come out and vote for the BJP candidate in the DDC polls and give BJP a chance to serve the people of Sopore," he said.
Tonga rally was held in Mazbugh area of apple town, which is five kilometers away from main town Sopore. Tongas were decorated with BJP flags.
On the sidelines of the rally, BJP General Secretary and J&K affairs incharge, Vibodh Gupta said that Sopore was known as mini-London, but militancy and separatism blocked all means of development in this area.
"Today's Tonga rally is a direct message of people of Sopore that they are with the Prime Minister Narendera Modi. We promise to the people of Sopore that if they choose BJP candidate, we will set up an international mandi in Sopore to give a fillip to the fruit market of Sopore," he said, adding that the "bumper polling in the two phases of DDC polls has given a message that Kashmir has changed and there was no space for militancy and separatism and want to live in peace with dignity."
He said that BJP is committed to revive the economy of business hubs of Kashmir be that Lal Chowk of Srinagar or the once popular mandi of Sopore—(KNO)