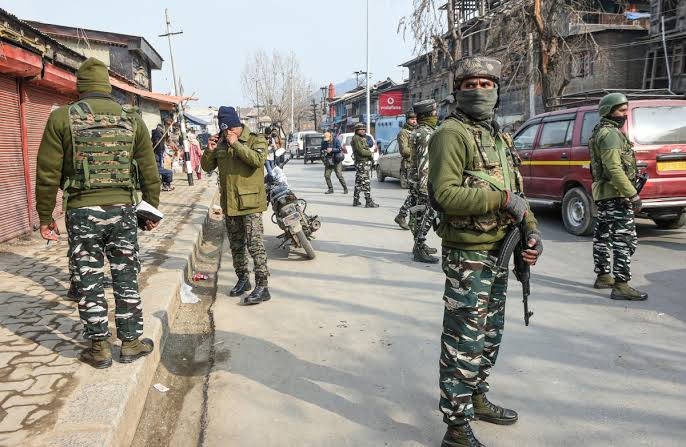 Srinagar, Nov 26: Two soldiers were killed in an audacious attack by militants in Srinagar outskirts on Thursday.
Reports said that militants emerged at Aban Shah Chowk HMT Srinagar and fired upon soldiers.
The attack left two soldiers critically injured.
Police said that militants fired upon Quick Reaction Team (QRT) at Aban Shah Chowk that falls under the jurisdiction of Parimpora Police Station.
They said a couple of militants were boarded in a van when they fired upon army party. Both the army personnel succumbed to their injuries while taking them to Sharifabad HMT.
The area was cordoned off shortly after the attack by soldiers from 2 RR and SOG personnel and a search operation launched.
The two soldiers killed in Srinagar militant attack today have been identified as Sepoy Rattan Lal of 163 Territorial Army and Sepoy Deshmukh of 101 Territorial Army. Both had been attached to 2nd Unit of Rashtriya Rifles.
Sources told KNT that militants also managed to snatch the service rifle of one of the slain soldiers, however, there was no official confirmation.
The militants reportedly used a Maruti car to carry out the attack. Chopper was pressed into service to locate the militants and the vehicle.
Inspector General of Police Kashmir range Thursday said that three militants carried out the attack on army men at HMT on Srinagar-Baramulla killing two army men.
The IGP Kashmir said that security forces are chasing the Maruti car and it seems that Jaish-e-Muhammad outfit has carried out the attack. "There seems to be the involvement of one or two foreign militants. By evening, we will ascertain the outfit that carried out the attack," he said