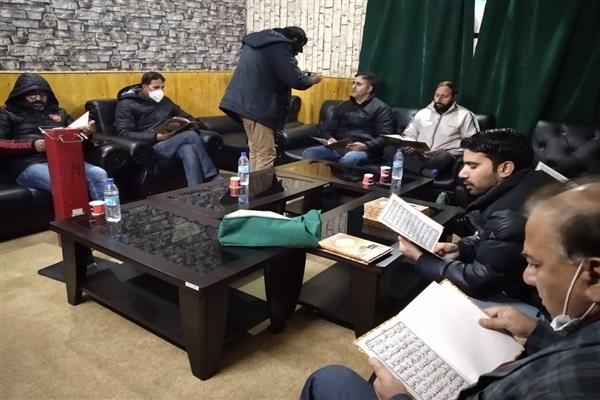 Srinagar, Nov 23: Anjuman-e-Urdu Sahafat J&K on Monday organized a Quran recitation and Dua Majlis at the Aiwan-e-Sahafat Kashmir (Kashmir Press Club) to pay homage to those young journalists who died in their youth this year.
At the occasion, the deceased journalists were remembered with tears. Besides journalists, people belonging to different walks of life also participated in the function and Quran was recited for the the deceased journalists.
Later on a prayer meeting was also held in which eternal peace was sought for the deceased journalists including Mudassar Ali of Greater Kashmir, Javed Ahmed of Rising Kashmir and Tanveer-ul-Ahad of news wire GNS.
Speaking to reporters on the sidelines of the event, Ryiaz Malik, President Anjuman-e-Urdu Sahafat, recalled the contribution of deceased journalists who left this ordinary world in a budding age.
"A vacuum was created, which will not be filled for years to come due to sudden death of journos" Malike said. He said the deceased journos left their humane and professional impression in the field of journalism while covering public importance issues.
"Remembering our comrades is a sign of a living nation, and we want to reassure their families that this trauma is not only confined to them but for the entire journalistic fraternity," Malik has said.
He also prayed for the relatives of the members of Anjuman-e-Urdu Sahafat who passed away this year.