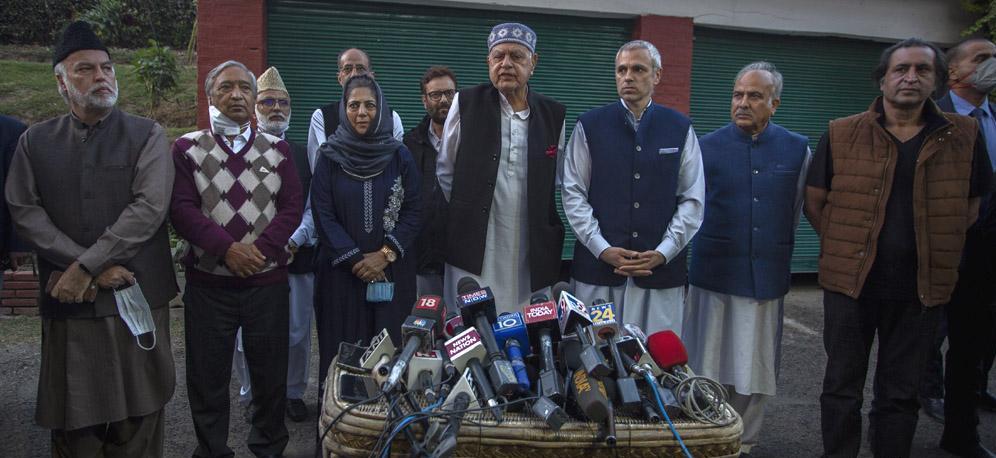 Srinagar, Nov 07: People's Alliance for Gupkar Declaration on Saturday announced to "unitedly fight" the upcoming District Development Council (DDC) elections in Jammu and Kashmir to prevent "too sacred space to be marauded or molested by the invaders."
The PAGD involves seven major mainstream political forces based in Jammu and Kashmir and it took shape last month to fight for the restoration of special status embedded in Article 370 and the resolution of the larger Kashmir issue. The alliance held a meeting with representatives of various political parties in Jammu as part of already announced agenda on weekend.
"We had a meeting today. One of the points of agenda was the upcoming DDC election. We had decided in Kashmir that we will take a decision after consulting people and our workers. We have unanimously decided that we will fight these elections unitedly despite the abruptness of timing. All of a sudden they spring a surprise and announced to complete the entire process within one month," Peoples Conference chairman and PAGD spokesperson Sajad Lone told media persons after culmination of the alliance's two-hour meeting.
Lone, who was accompanied by three-time CM and NC President Dr Farooq Abdullah, PDP president Mehbooba Mufti and other leaders of the grouping, said this space is too sacred to be left to invaders to invade.
"We will not allow it to be marauded and invaded," he said, adding that Dr. Farooq Abdullah would release the names of candidates to be fielded by PAGD.
A senior leader of the alliance said they will sweep polls in Kashmir Valley, Pir Panchal and Chenab Valley. "Our real contest will be with BJP in Jammu, Kathua and Samba districts. We are hopeful to win elections in these districts also as people have suffered a lot in Jammu region after August, 2019," he said.
Before addressing media persons, various delegations from cross-section of the society met the constituents of PAGD at the residence of its chairman Farooq Abdullah in Bathindi.
The delegations held detailed discussions with PAGD constituents over the prevailing situation of Jammu and Kashmir, and conveyed their support to the PAGD in its fight for restoration of special status to J&K, a spokesperson of the Alliance said in a statement.
He said that all senior leaders of PAGD constituents comprising National Conference, Peoples Democratic Party, Peoples Conference, Awami National Conference, CPI (M) and JK Peoples Movement were present and patiently listened to the issues raised by different delegations.
The major delegations which converged at the residence of Farooq Abdullah comprised Sikh groups, Gaddi and Sippi leaders, members of Kashmiri Pandit community, transporters, Gujjars and Bakerwals, residents of Bathindi and Sunjwan, delegations of Scheduled Caste and OBC communities, IAS aspirants, BSP and delegations from Chenab Valley and Pir Panchal.During the discussions, they assured that they would fight for the identity and dignity of people of J&K. The delegations said that they would fight with PAGD for the restoration of special status to Jammu and Kashmir.
It is worthwhile to mention here that J&K's major political parties have formed PAGD to fight for restoration of J&K's special status.
All top leaders of PAGD including Farooq Abdullah, Omar Abdullah, Mehbooba Mufti, Sajad Gani Lone and others were detained by government after abrogation of Article 370 and kept in detention for period between seven months to 14 months