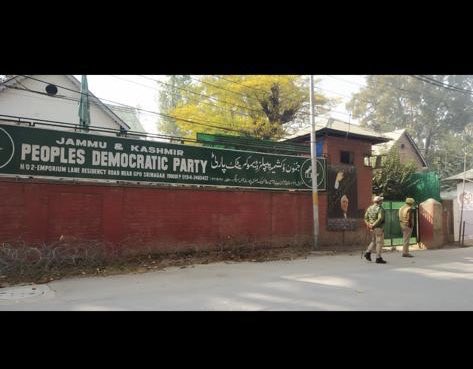 Srinagar, Oct 29: Police on Thursday barred Peoples Democratic Party (PDP) from holding a protest against news land laws that have been implemented by Government of India in Jammu and Kashmir allowing any one to purchase land in the region.
Police sealed PDP office located opposite Municipal Park Srinagar and arrested all those who tried to take out a march.
Earlier a meeting was called by Youth President PDP Waheed-ur- Rehmaan Para in party office Srinagar.
The Police already present on the spot did not allow anyone to proceed towards the PDP Office and arrested many leaders including Waheed-ur- Rehmaan Para, Muhammad Khursheed Aalam, Rouf Bhat, Dr.Harbaksh Singh, Sohial Bukhari, Yasin Bhat and others.
Shortly after the development, former Chief Minister and PDP President, Mehboobi Mufti tweeted that PDP's Waheed Parra, Khurshid Alam, Rouf Bhat, Mohsin Qayoom and Mohit Bhan were arrested by J&K police for protesting against the settler colonial land laws thrusted upon people of J&K.
"We will continue to raise our voice collectively & won't tolerate attempts to change demographics," she said.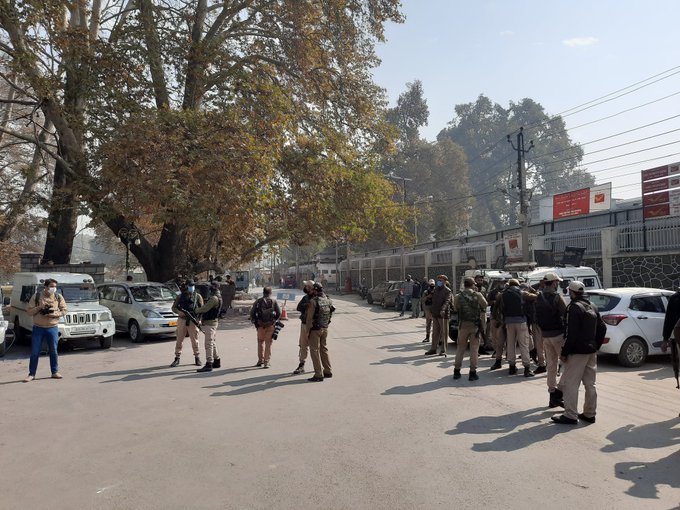 Dr. Harbaksh Singh- Additional Spokesperson of PDP said, "We had organized a youth meeting of PDP workers, but as soon as we approached the office in Srinagar, our entire office was under siege and we were not allowed to proceed and many of our leaders including me have been arrested and taken to Kothi Bagh Police station."
"The leaders who have been arrested are Khursheed Alam, Sohial Bukharai, Waheed-Ur- Rehmaan, Rouf Bhat, Mohit Bhaan and others" said, Dr Harbaksh Singh.
Before his arrest, Waheed-Ur- Rehmaan Para said: "We are protesting against the Black Laws which are being enforced on People. Before he could have spoken more, Para was detained and bundled into a vehicle by police.
Same was done to PDP Spokesperson Sohail Bukhari who raised slogans against the new land laws. He too was detained and lodged at police station Kothi Bagh.
Pertinently, Jammu Unit of PDP held a protest against the new Land Laws and denounced the move of New Delhi to put the land of the erstwhile State on sale.
Earlier in a Tweet Mehbooba Mufti confirmed that PDP office has been sealed and many of their leaders have been arrested. In her Tweet she had said that PDP office in Srinagar sealed by J&K admin & workers arrested for organizing a peaceful protest.
"A similar protest was allowed in Jammu so why was it thwarted here? Is this your definition of 'normalcy' that's being showcased in the world?" she tweeted and tagged the same to PM's office, Ministry of Home Affairs Government of India and LG Manoj Sinha. (KNT)