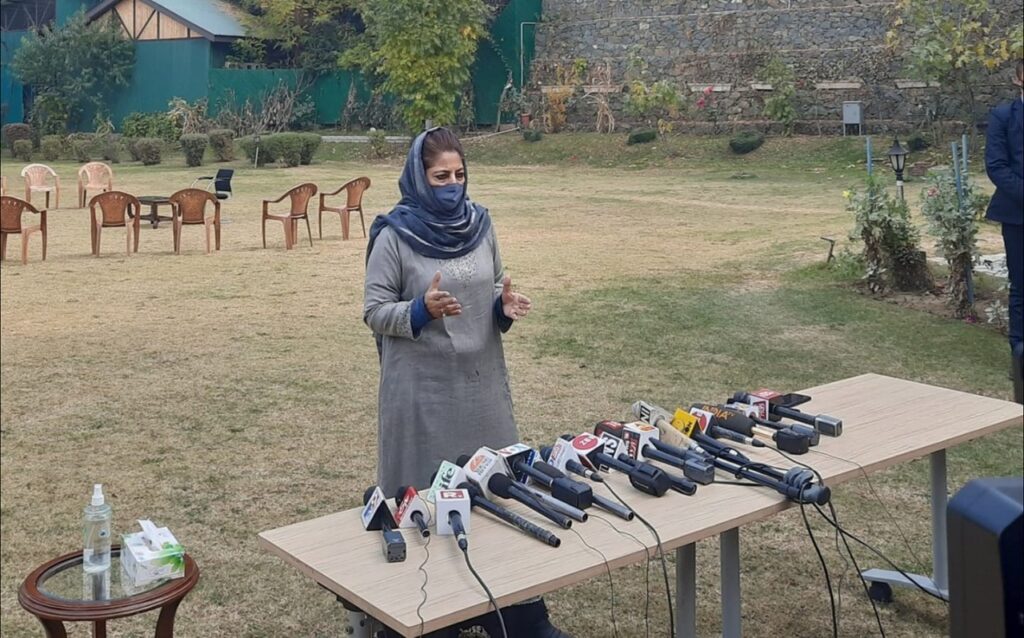 Srinagar, Oct 29: Former Chief Minister Mehbooba Mufti Thursday said that she won't allow BJP to loot and plunder the resources of Jammu and Kashmir and will fight it out with the help of people.
After barring from leading a protest against new land laws, Mehbooba Mufti while talking to media at her Gupkar based residence said that there is complete lawlessness in Kashmir and it has been converted into a jail.
She said that the Government of India has communal intention with regard to Kashmir. "Kashmir has been turned into a jail. Nobody is allowed to express himself. Neither Journalists or allowed to talk, nor Civil Society and Politicians. People in Bihar demand jobs and food from BJP and this party tells them to go to Kashmir and purchase land there. BJP can't think beyond elections. It is befooling people and using Kashmir in every election."
The former Chief Minister as per news agency KNT said that BJP is silent over China and using muscle power on the people of Kashmir. "Go and get the land occupied by China that has killed so many soldiers. No, BJP can't and won't do this because it can't overpower China. It is suppressing the helpless people of Kashmir," she said.
Mehbooba said that the workers of PDP that were planning to stage protests against land laws were arrested from their homes during night hours. "Our office was sealed. There is complete lawlessness and people have been caged."
She said people of Jammu and Ladakh have started coming round to the views of people of Kashmir.
"BJP wants to loot the land and resources of Jammu and Kashmir. People of Ladakh were airlifted to Delhi when they started protesting against the BJP's diktats. They want to loot everything from Kashmir and we won't allow them to do so," Mehbooba said.
She said everybody is not a Twitter politician and she will hit roads against the diktats that are coming from New Delhi. "Everyday BJP issues new 'Farmaans'. Sometimes they violate domicile rules and sometimes put our land on sale. We won't remain silent, come what may," she said.
She said BJP is not doing this for common men but to appease the capitalists of India. "A poor who lacks food and clothes can't buy land here but this new land law diktat is for those rich capitalists who are hand in glove with the BJP," she said.
"Today you stopped us using muscle power, tomorrow you will fail. People will respond to you in a big way," she said.
Mehbooba Mufti said that Kashmirs were never in good books of New Delhi and BJP but now this (BJP) have started targeting people of Jammu and Ladakh too. "Whatever India did here was unconstitutional, illegal and irrigational," she said, adding that Modi has ruined the whole country and BJP's communal intent is clear now.
Mehbooba concluded her briefing with the couplet: "Sarfaroshi ki tamanna ab hamare dil mein hai, dekhna ki zor kitna baazu-e-qatil mein hai." (The desire for revolution is in our hearts, we shall see how much strength lies in the arms of the enemy.)
Pertinently, these lines had become a war cry for India's freedom struggle against the British.