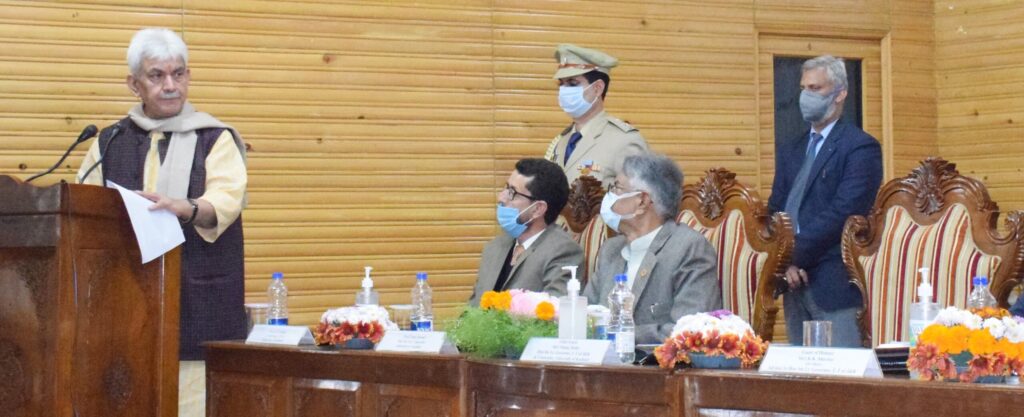 Srinagar, OCtober 22: Lt Governor Manoj Sinha has stressed upon the need to revive the iconic role of Sufis and Reshis in the cultural transformation of Kashmir at an important juncture of history.
Presiding over the inaugural session of one day national seminar on "Reshi- Sufi Traditions of Kashmir" at the University of Kashmir, the Lt Governor repeated the words of prominent saint Lalleshwari in which she asked the people to seek God within and not create a religious divide among the masses.
He also highlighted the unique nature of Kashmiri spiritual thought which seeks to combine elements of Shaivism with Sufism.
Remembering Nund Rishi, also known as Sheikh Noor-ud-Din, the Lt Governor said that he was an enlightened being and equally revered by Hindus as well as Muslims.
He hailed the spirit of humanism in Reshi-Sufi traditions of Kashmir and said that it is greater than any religion.
The Lt Governor also called upon the public to trace roots of true Kashmiriyat, which believes in universal brotherhood and equanimity among people of various races, religions and social status. He said that a major cause of social unrest is because people here have lost touch with their traditional spiritual values.
He asked the people to embrace the Reshi-Sufi traditions of Kashmir and help eliminate all traces of communal divide.