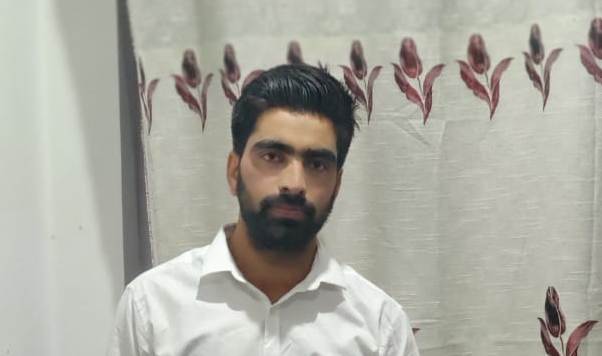 Sopore, Sep 16: The family members of the Sopore youth, Irfan Ahmad Dar, 23 accused police of dubbing him as a 'militant' and that he was killed in custody
The police, however, refuted the charge, claiming he was a militant associate, who was arrested on Tuesday, and later he fled in darkness only to be found dead near stone quarry.
"I along with my brother Irfan were picked up by police for questioning on September 14 and we were kept separately. I was set free but my brother was kept in the police custody," said Javaid Ahmed, Irfan's brother.
He alleged that his brother has been killed in police custody and that he had no militant links.
"My brother is innocent and was a shopkeeper by profession. He was unmarried and that the police claims about recovery of grenades is nothing but baseless story." Javaid demanded an impartial independent probe into what he alleged as "the cold blooded murder" of his brother
"Our residence has CCTV cameras and you can check the recordings of month a d a half and if you find any clue, I'm ready to face any punishment you may pronounce," said Dar's brother who was also arrested and let off by police after his health condition according to him deteriorated in the police custody. "you punish me also if anything (subversive) is found from our mobile phones which are lying with the police."
Speaking to the reporters inside his residence heart-wrenching prevailed, he said that he was released at 11p.m. and the family was told to take him home "after my health condition worsened".
"He (Irfan) was arrested at 12:45 hours while I was arrested at 4 p.m. saying that there was (militant) at your residence. No recovery (of ammunition) was made as claimed by the police. Civilians accompanied them (police during raid). Ten days ago they said there is the person (militant) hiding in your residence and we told them to check the CCTVs."
He said that Irfan was not only his brother but a friend who would share all details with him. "he would remain with me for entire day. He had no spare time."
The death of a 23-year-old in Sopore area of north Kashmir's Baramulla triggered a fresh wave of anger in the district with police claiming that deceased youth was an Over Ground Worker (OGW) arrested on September 15 along with two grenades and that he died after fleeing during the night raid after which his body was found near a stone quarry.
The authorities also snapped the internet in the area to prevent any law and order incident.
Police statement
A police statement said that on September 15 at about 12:45 pm, one OGW namely Irfan Ahmad Dar (Age about 23/24 years) S/O Mohammad Akbar Dar R/O Sidiq-Colony, Sopore was apprehended and two Chinese Hand Grenades were recovered from his possession.
"In this regard, Case FIR No. 257/2020 U/S 18 ULA (P) Act, 7/27 A. Act was registered in Police Station Sopore and investigation taken up," the police statement said. "During the course of investigation, a Police Team visited Chairdaji area of Tujjar-Sharief along with OGW for affecting some more recovery on the disclosure of the OGW."
The police statement further read that in the meanwhile, the OGW while taking advantage of darkness and terrain managed to escape regarding which a separate Case FIR No. 71/2020 U/S 224 IPC was registered in Police Station Bomai. "And during search, the body of OGW was found near Stone Quarry of Tujjar-Sharief," the police statement said, adding that the body was taken to the nearby Primary Health Centre (PHC), wherefrom it was shifted to PCR Kashmir Hospital for fulfilling medical and other legal formalities and final disposal. "Further investigation is going on," the police statement said.—(KNO)