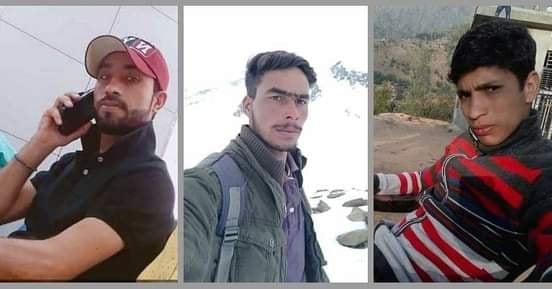 Shopian, Aug 15: Families of three youth from Rajouri who have been allegedly killed in a staged encounter at Amshipora, Shopian Saturday said that they want immediate justice as their lone bread earners have been killed.
The family members of three youth, said that it was the poverty that forced them to send their wards to Shopian from Rajouri, to earn a livelihood, despite the fact trio were students.
Mohammad Yousuf, father of Abrar Ahmad (25)—one of the missing youth, said that their lone bread earner has been killed, where they will go now. "I am old now, who will take care of his wife Sehreen and 15-month-old baby Irfan and his brother and sister, both minors," Yousuf said.
"For what we have been left here. They should have assembled us all and killed us in one go, so that no one would have raised voice against killing."
Due to poverty, Abrar left studies after passing class 8th and was in Kuwait for two years, where he was working as a helper. "Last year he returned and started working as a labouer. Due to Covid, he couldn't go back to Kuwait and stayed here only," said Yousuf.
He said the families are in a deep pain and have vowed not to remain silent till justice arrives. "We will fight for justice till our last breath," Yousuf said.
Family members of another youth, Imtiyaz Ahmad (20) who has passed his 12th class examination last year, said that due to intense financial issues at their home, their son left for Shopian for studies. "He was our elder son and our second son and daughter are minors," they said, adding that "He left for Shopian very early this year as he was expecting to earn good amount this year so that he can get admission in a college."
For the family, Imtiyaz too was the lone bread earner. Bagha Khan, father of Abrar Ahmad (16) who had passed his 10th class last year and due to poverty and Covid lockdown, he also left for Shopian to earn some money in order to continue his studies besides taking care of family.
"He was a kid. Imagine a 16-year-old kid," he said. All the three families have stated that they will fight till justice prevails—(KNO)