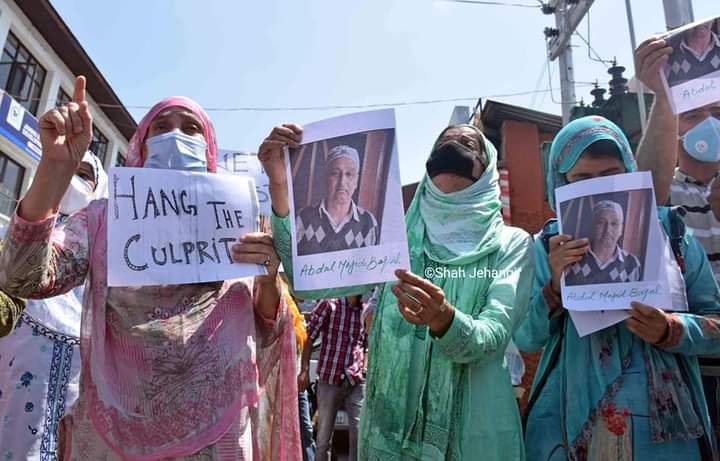 Srinagar, Aug 07: Family members of man who was allegedly beaten to death by his neighbors three days ago in Chanpora area of Srinagar on Friday staged a protest, seeking action against the accused. 
Carrying placards which read "Hang the Culprit, File FIR", dozens of family members, neighbours and relatives of the deceased man assembled at Press Enclave, Srinagar and staged a protest demonstration.
Abdul Majeed Baqal (65) a resident of mini housing colony Chanpora, was allegedly beaten to death by his neighbour, Waseem Feroz Khan, when the deceased was washing the pathway of his home on the fateful day.
Khan alias Jimmy footballer according to the victim's family is an employee of Jammu and Kashmir Bank who ruthlessly beat the victim to death.
Protesters said they don't know whether the police have lodged FIR against the accused as they are yet to receive a copy of FIR and the post-mortem report.
They said that police also seem reluctant to act against the accused having been allegedly 'influenced' by his family.
"We demand action against accused Waseem Feroz, who beat my father to death. We are only being asked to record statements and lead witnesses. My family and I are witness to the murder of my father who was busy washing pathway when the accused ruthlessly beat him leaving him critically injured," daughter of the deceased told reporters here.
She said the accused being highly influenced wants the victim's family to negotiate, so that the case is hushed up while he carries on his criminal activities without any fear.
Another relative of the deceased said there should be no delay by police to file charge-sheet against the accused in the court of law, as the act does not deserve any concession but capital punishment.
"Our brother was murdered in cold blood and the police want us to negotiate with the accused family, our pleas to provide a copy of FIR and a post-mortem report have fallen flat. We are running from pillar to post but justice is being denied to us," he added—(KNO)