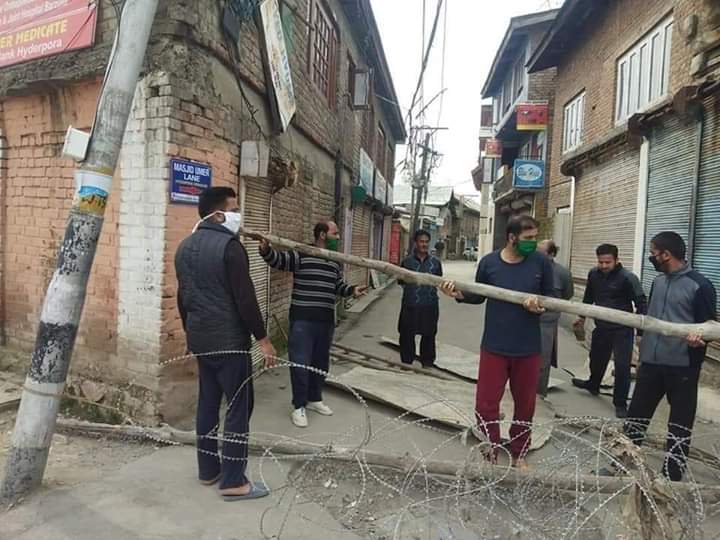 Srinagar, July 31: Even though the deadly Coronavirus set its foot in Jammu and Kashmir in the month of March this year, the dreaded virus wreaked havoc in the month of July that saw 276 deaths and 12862 positive cases.
Despite witnessing a surge in deaths and positive cases, people from different walks of life were seen busy in markets from the last three days as the government eased restrictions ahead of Eid, unmindful of transmitting the virus.
As per the official data in the first 115 days (from March 08-June 30) 101 Covid-19  related deaths were witnessed in Jammu and Kashmir including 89 from Kashmir division and 12 from Jammu division.
"Till July 1, 88.11 percent deaths were from Kashmir division while 11.89 were Jammu division," the data reveals. While as, from July 1 to July 31,  276 deaths related to Covid-19 were recorded in J&K which is around 73.20 percent of the total deaths.
Among 276 deaths in July month, 260 were reported from Kashmir division while as Just 16 were from Jammu division which means 94.20 percent of Covid related deaths were reported from  Kashmir division  while just 5.79 percent are from Jammu division in the month of July.
Overall out of 377 deaths related to Covid-19 in J&K 349 are from Kashmir while 26 are from Jammu division. So, the overall share of deaths of Kashmir division is 93.1 percent and that of Jammu is 6.8 percent.
Notably, there are 20359 positive cases in J&K, among them 12862, which means 63.17 percent of total positive cases in J&K, were witnessed in the July month alone.
"Out of total 20,359 positive cases, 15915  are from Kashmir division while 4444 are from Jammu division," officials privy to the data revealed.
So, Kashmir's share in total positive cases is 78.17 percent while 21.82 percent positive cases are from Jammu division.  It may be recalled that the first case of the COVID-19 pandemic in India was reported on 30 January 2020, originating from China. Slowly, the pandemic spread to various states and union territories including the union territory of Jammu & Kashmir.
Two suspected cases with high viral load were detected and isolated on March 4 in Government Medical College, Jammu. One of them became the first confirmed positive case on  March 9. Both individuals had a travel history to Iran.
Despite witnessing a surge in positive cases, people are not adhering to the protocol which can prove disastrous for the whole community, said experts and doctors.
Dr M S Khuroo, former director SKIMS and head of the advisory Committee  of government regarding Covid protocol, said that as people are not taking Covid protocols seriously, it seems that J&K is heading towards a disaster.
"Despite witnessing a surge in positive cases besides death, people are still non serious about Covid-19 and are roaming without masks and are not maintaining social distance which is very unfortunate and can prove dangerous for all of us," he said. "If conditions remain the same, we won't have beds and space available to treat patients due to which death rate will increase."
He said that if the callous approach of people towards Covid-19 continues, the situation will become out of control. "It is not still late. People must follow Covid guidelines and take precautions,' Dr Khuroo said—(KNO)