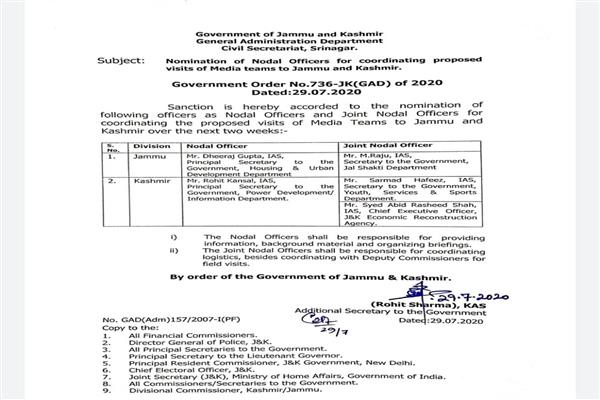 Srinagar, July 29: Various media teams are visiting Jammu and Kashmir in next two weeks.
According to an order issued by the Government, Nodal officers and Joint Nodal officers have been appointed for coordinating the proposed visits of Media teams to J&K over the next two weeks.
The order reads: Principal Secretary Govt Housing and Urban Development Department Dheeraj Gupta and Rohit Kansal Principal Secretary information has been nominated as nodal officers whereas M Raju Secretary Jal Shakti Department, Secretary Youth Service ,Sports Sarmad Hafeez and Syed Abid Rashid Shah CEO JKERA has been nominated as joint nodal officers.
It further reads that nodal officers shall be responsible for providing information, background material and organising briefings.
The joint nodal officers shall be responsible for coordinating logistics besides coordinating with Deputy Commissioners for field visits.