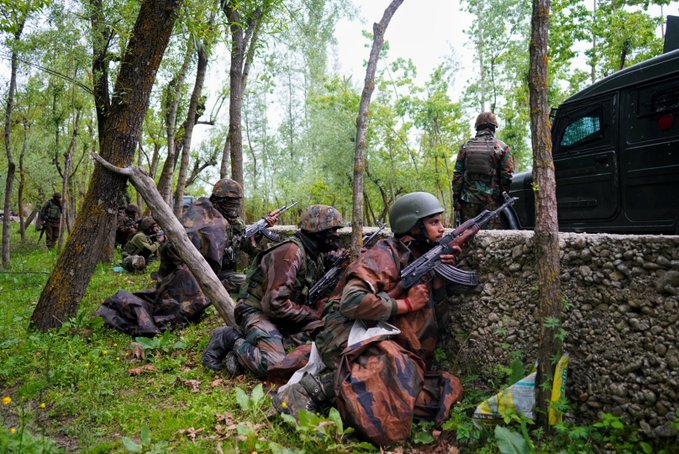 Srinagar, June 18: Two unidentified militants were killed in two separate encounters in South Kashmir's Pulwama and Shopian districts in 24-hours. Both operations are underway, security officials said Thursday.
Officials said that encounter broke out between security forces and militants at Meej area of Pampore in South Kashmir's Pulwama district early morning after joint teams of forces cordoned of the area on the basis of a tip-off about presence of militants.
"One of the militants was killed in an initial exchange of fire when he tried to take shelter in a chow shed. Two others, managed to flee from the spot who later took refuge in a mosque at Meej village of Pampore," an official said.
They said that in Meej village repeated announcements are made on loudspeakers by the police and army asking militants to come out," an official said, adding that security forces have not "opened any fire at the mosque keeping in view the sanctity of the religious place."
As the  forces were busy in an encounter at Meej area, another gun-battle broke out at Bandpawa area of Chitragam in Shopian, police officials said.
This is second encounter in less than 24 hours in south Kashmir districts. A police official said that acting on a specific lead about the presence of militants, joint teams of Police, Army and CRPF launched a cordon and search operation in the afternoon at village Bandpawa in Chitragam Tehsil of Shopian district.
"As the joint teams of forces zeroed in on the suspected spot, the hiding militants fired upon them which was retaliated, triggering an encounter," the official said.
A senior police officer also said there was an exchange of fire between forces and militants in the area. "In the ensuing encounter, one unidentified militant has been killed and the operation is underway," a police official said.
In both the southern districts—Pulwama and Shopian, mobile phone internet services have been snapped as a precautionary measure. Locals of these districts said that voice calling on all platforms except BSNL have also been snapped by the authorities.
Inspector General of Police, Kashmir, Vijay Kumar recently said that militants stand almost wiped out from South Kashmir and the police would now shift its focus on north Kashmir from next month.
This year so far, 95 militants including top commanders of Hizbul Mujahideen, Jaish-e-Muhammad and Lashkar-e-Taiba were killed that include Reyaz Naikoo, the chief operational commander of Hizbul, Bashir Koka of Lashkar and Abdur Rehman alias Fouji Bhai of Pakistan, who was an IED expert of Jaish.
Figures suggest that 62 militants were killed alone since the outbreak of Covid-19 pandemic in Kashmir on March 20. In the past two weeks, 20 militants were killed in two southern districts of Shopian and Pulwama—(KNO)