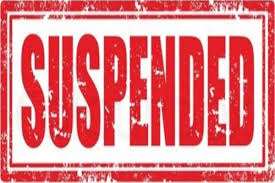 Srinagar, June 10: Director Health Services Kashmir on Wednesday placed under suspension in-charge BMO Handwara for using 'unparliamentary' language for public and "abusing" female staff.
As per an order issued by the director health services, a complaint was lodged against Dr. Abdul Majid Bhat, in-charge BMO Handwara by Panches and Sarpanch of Chowgal Handwara .
Taking cognizance of the complaint and in order to ascertain the factual position, the DHSK said that an Inquiry team of officers and Officials was constituted on June 4 to conduct the enquiry and submit the report within two days positively.
"The enquiry team furnished the report and stated that the doctor concerned has not been able to prove his ability as an administrator. Besides, he uses unparliamentary language for public and abuses the female staff," the order reads. The committee recommended the immediate suspension of the doctor concerned, the order reads further.
"Upholding the recommendations of Enquiry Committee, Dr. Ab Majid Bhat I/C BMO Handwara is hereby placed under suspension and is attached with CMO Office Bandipora till further orders," it said, adding, "The necessary charge sheet shall follow."
Meanwhile, Dr. Ab Rouf Incharge Medical Superintendent District hospital Handwara has been directed to look after the work of Block Medical Officer Handwara in addition to his own duties till further orders. (GNS)