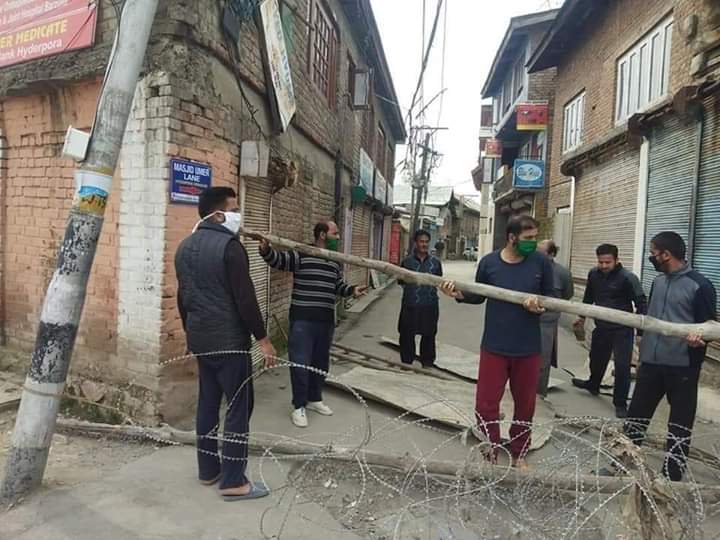 Srinagar, May 18: Five doctors and 55 armed police personnel including an SP ranked officer, were among at least 106 fresh cases reported in Jammu and Kashmir so far on Monday, taking the over tally of the Covid-19 patients in the J&K closer to 1300 mark.
Aamong the fresh cases, 94 are from Kashmir and 12 from Jammu.
They include 59 among the fresh cases are from Anantnag district 12 each from Srinagar and Kulgam, four from Kupwara, two each from abndipora, Jammu, Kathua, Rajouri and Poonch while one each from Baramulla, Shopian, Budgam, Ganderbal, Pulwama, Udhampur, Ramban, Kishtwar and Doda.
Nodal officer Covid-19 at Government Medical College Srinagar said among the 750 samples processed at CD covid-19 testing lab in 24 hours till 5 p.m. today,
55 were from DPL Anantnag, 8 of them are patients admitted to SMHS Hospital,
Besides 3 ENT doctors of the Hospital and one doctor each at Government Dental College Srinagar and SKIMS MCH Bemina.
The other patients include 2 from Anantnag, 2 from Srinagar (travelers from New Delhi), one patient admitted in LD Hospital from Bandipora, 2 from Jammu while one each is from Ganderbal, Kulgam, Handwara, Pulwama, Doda, Banihal, Kishtwar and Kathua.
"There is no policeman from district police Anantnag. The DPL Anantnag is a collection point and all the 55 personnel are from armed police," a senior police officer said. Among them, he said, one is a SP ranked officer.
Official sources said that five doctors whose samples returned positive include a 30-year-old from Bemina Srinagar (posted at SKIMS MCH), 27-year-old from Asham Sumbal Bandipora (posted in Orthodontics dental college Srinagar), 46-year-old from Ladakh (Consultant ENT SMHS), 42-year-old from Mahjoor Nagar Srinagar (Consultant ENT SMHS) and Registrar ENT SMHS, a 30-year-old doctor.
Among other patients who have tested positive at CD hospital's covid-19 testing lab include 50-year-old woman from Bemina Srinagar, admitted to isolation ward in SMHS. The others including 75-year-old woman of Kokernag, 55-year-old man from Fateh Kadal Srinagar, 65-year-old woman from Kulgam,, 56-year-old from Kargil, 70-year-old woman from Budgam, 55-year-old man from Pattan Baramulla and 27-year-old from Sallar Anantnag were also admitted to SMHS hospital.
The 55 armed policemen who tested positive are aged between 25 to 56 years old and maximum among them are in 30s, they added. Eleven other samples were confirmed at army's Command Hospital Udhampur and include 10 from Kulgam and one resident of Udhampur distrct, sources said. The two others are from Rajouri and their samples were confirmed at GMC Jammu.
Professor Farooq Jan, Medical Superintendent SKIMS told that five samples returned positive for the disease and include three from Kupwara and one each from Shopian and Srinagar.
With these cases, the number of Covid-19 patients has risen to 1289 so far. "There is possibility of more cases as reports from Private lab and GMC Jammu are awaited," sources added.( GNS)