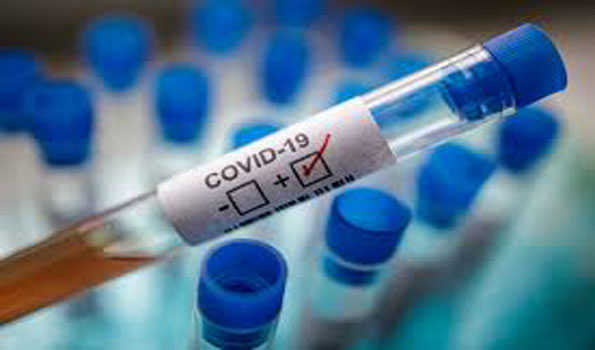 Srinagar, May 15: Two patients admitted to SMHS hospital were among sixty five people who tested positive for the novel coronavirus in Jammu and Kashmir in last 24 hours, officials said on Friday.
The fresh cases mark the biggest single day spike in cases so far and have taken the number of covid-19 patients in J&K to 1048—928 in Kashmir and 120 in Jammu.
Among them, there are 524 active cases as 513—57 in Jammu and 456 in Valley—have recovered while 11 others—nine in Kashmir and two in Jammu have died.
They said among the fresh cases, 25 were reported from Kulgam, 11 from Srinagar, 10 from Ramban, six from Baramulla, four from Kathua, two each from Kupwara and Ramban besides one each from Bandipora, Pulwama, Jammu, Udhampur and Ramban.
Sources said Kulgam and Ramban cases, 25 in all, were confirmed at a laboratory in Army's command hospital Udhampur. "All of them are travelers," sources said.
When contacted, deputy commissioner Kulgam said that they were kept in administrative quarantine at Pulwama. He said all of them are from Chattabal Kulgam. "They will now be shifted to isolation," Showkat Aijaz Bhat. CMO Kulgam Dr Fazil Kochak also confirmed to GNS that 25 cases were confirmed.
Deputy Commissioner Ramban in a tweet said: "10 more positive cases of COVID19 detected in Ramban today."
Regarding two patients who tested positive at SMHS hospital, its medical superintendent Dr Nazir Choudhary told GNS: "One patient was admitted to CD hospital and later his test came out to be negative. He was kept in separate room. His fresh test came out to be positive again. He has now been shifted (CD) again."
Regarding another patient, the medical superintendent said she is a 29-year-old woman who was operated in ENT on May 8. "She was shifted to surgical ICU. Her test came positive," he said, adding, "Many doctors, nurses and patients would now be quarantined."
Asked about the exact number, he said: "Almost 20 doctors and nurses besides the patients would now be quarantined. I have asked the concerned HOD to identity."
Sources said that among the fresh cases is also a Chowkidar (gate keeper) at GMC. "One can imagine how many move through the gate. We will have to act quickly," a senior doctor at GMC Srinagar said.
Dr G H Yatoo, Nodal Officer coronavirus control measures at SKIMS Soura said that eight out of the total samples which were processed at hospital's viral diagnostic lab returned positive of the virus.
They include six from Baramulla and one each from Pulwama and Bandipora districts, he said.
They include 22-year-old from Pulwama, 28-year-old and 40-year-old from Mirgund Baramulla, 9-year-old boy, 11-year-old girl, 20-year-old woman and 40-year-old from Tangmarg besides 20-year-old from Sopore Baramulla while one case—23-year-old woman—is from Nadihal Bandopora. Professor Farooq Jan, medical superintendent SKIMS said almost all of them have history of travel to New Delhi and Bangalore while one case is a contact of a previous covid-19 patient.
Nodal officer Dr Salim said that out of 655 samples processed at CD Hospital Srinagar's Microbiology Lab, 12 came out to be positive for virus. They are mostly travelers, sources said.
Regarding those who tested positive at CD lab include 45-year-old man from Samba, at present guest house in Rajbagh Srinagar, 29-year-old woman from Habba Kadal (admitted to Surgical ICU SMHS hospital), 38-year-old woman and 35-year-old from Ramban 35-year-old man from Udhampur, 39-year-old man from Kathua, 33-year-old man from Kishanpur Udhampur, 31-year-old from Farid Kote Punjab, 21-year-old man from Dahnagri Kathua, 38-year-old Jodhpur Rajasthan and 31-year-old Nowshera Rajouri.
The government in a daily media bulletin said till date 103290 travellers and persons in contact with suspected cases have been enlisted for surveillance. They included 26603 persons in home quarantine including facilities operated by government, 152 in Hospital Quarantine, 487 in hospital isolation and 12383 under home surveillance. Besides, 63654 persons have completed their surveillance period.
Providing district-wise breakup, sources said that Anantnag has 145 cases, Srinagar 153, Bandipora 135, Baramulla 116, Shopian 107, Kupwara 85, Budgam 52, Ganderbal 23, Kulgam 97, and Pulwama 15.
Similarly, Jammu has 39 positive cases, Udhampur 24, Samba 11, Rajouri 5, Kathua 21, Reasi 3, Kishtwar 1 and Ramban have 16 cases.
According to daily media bulletin, 28 more COVID-19 patients have recovered and discharged from various hospitals of Kashmir Division. Four among them were discharged today from Associated Hospital Anantnag. "The eldest was 85 years and youngest was 18 years old girl," a doctor told GNS.
Meanwhile, the Bulletin said that till date 105941 travellers and persons in contact with suspected cases have been enlisted for surveillance which included 27760 persons in home quarantine including facilities operated by government, 142 in Hospital Quarantine, 489 in hospital isolation and 13254 under home surveillance. Besides, 64285 persons have completed their surveillance period. (GNS)