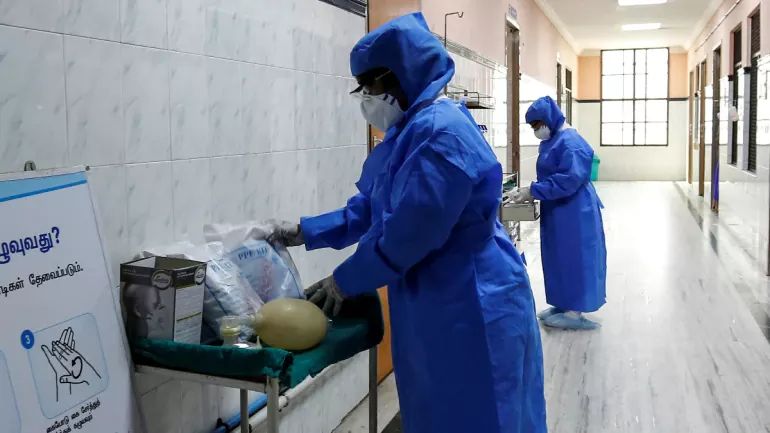 Jammu May 12: The Government informed that 18 new positive cases of novel Coronavirus (COVID-19), 06 from Jammu division and 12 from Kashmir division, have been reported today thus taking the total number of positive cases in Jammu and Kashmir to 879. Also 01 COVID-19 positive patient died today at C.D. Hospital, Srinagar.
According to the daily Media Bulletin on novel Coronavirus (Covid-19), out of 879 positive cases, 442 are Active Positive, 427 have recovered and 10 have died.
Moreover, 44 more COVID-19 patients have recovered and discharged from various hospitals of Kashmir Division. 01 Covid 19 patient died today at CD hospital, Srinagar.
Furthermore, till date 95419 travellers and persons in contact with suspected cases have been enlisted for surveillance which included 22708 persons in home quarantine including facilities operated by government, 190 in Hospital Quarantine, 442 in hospital isolation and 10188 under home surveillance. Besides, 61881 persons have completed their surveillance period.
Providing district-wise breakup, the Bulletin said that Bandipora has 134 positive cases with 26 Active Positive, 107 recovered (including 32 recoveries today), 01 death; Srinagar has 136 positive cases with 56 Active Positive, 76 recovered, 04 deaths; Anantnag district has 123 positive cases with 110 Active Positive, 12 recovered (including 09 recoveries today), 01 death; Baramulla has 109 positive cases (including 01 reported today) with 61 Active Positive, 45 recovered, 03 deaths; Shopian has 103 positive cases with 52 Active Positive, 51 recovered; Kupwara has 73 positive cases with 30 Active Positive, 43 recovered (including 01 recovery today); Budgam has 46 positive cases with 32 Active Positive and 14 recovered cases (including 01recovery today); Ganderbal has 23 positive cases with 09 Active case and 14 recoveries; Kulgam has 42 positive cases (including 11 cases reported today) with 36 Active Positive and 06 recoveries ((including 01 recovery today); Pulwama reported 13 positive cases with 09 active positive, 04 recovered.
Similarly, Jammu has 35 positive cases (including 03 new cases reported today) with 09 active positive cases and 26 recoveries; Udhampur has 22 positive cases with 02 active positive case, 19 recovered and 01 death; Samba has 07 positive cases with 03 Active Positive and 04 recoveries; Rajouri has 04 positive cases and all have recovered; Kathua has 06 positive cases (including 03 reported today) with 05 Active positive and 01 recovered; Kishtwar had only 01 positive case who has recovered while Ramban and Reasi have 01 active positive case each.
The Bulletin said that the breakup represents districts from which the patients have been traced or are ordinarily residing.
The advisory has cautioned the Public that, drinking methanol, ethanol or bleach DOES NOT prevent or cure COVID-19 and can be extremely dangerous. Methanol, ethanol, and bleach are poisons and drinking them can lead to disability and death. Methanol, ethanol, and bleach are sometimes used in cleaning products to kill the virus on surfaces – however you should never drink them. They will not kill the virus in your body but will harm your internal organs. To protect yourself against COVID-19, disinfect objects and surfaces, especially the ones you touch regularly. You can use diluted bleach or other disinfectants for that. Make sure you clean your hands frequently and thoroughly and avoid touching your eyes, mouth and nose.
As per the bulletin, the people have been informed that Stigma around COVID-19 can discourage people to take necessary steps to fight the virus. Break the stigma; Encourage patients to come forward for COVID-19 testing if they develop symptoms, as early detection of COVID-19 can prevent the spread of disease. Not disclosing symptoms like fever, cough and difficulty in breathing could put life of individuals and their families at risk. In case of symptoms report early and do not fear, call COVID-19 helpline numbers and seek medical advice.
As a measure for social distancing in public places & workplaces wearing a face cover is compulsory.
Advisory urged people not to step out of home, unless absolutely necessary. "If you have to move out for unavoidable reasons, ensure that you wear a mask and practice social distancing, personal hygiene and frequent handwashing with soap and water."
In case of any emergency people can avail free ambulance services 24×7 at their doorsteps by calling on toll-free number 108 while as pregnant women and sick infants can avail free ambulance services by dialling toll-free number 102.
People can also call on toll-free national helpline number 1075; J&K COVID-19 Helpline Numbers 0191- 2549676 (UT level Cell), 0191-2520982, 0191-2674444, 0191-2674115 (For Jammu Division), 0194-2440283 & 0194-2430581 (For Kashmir Division) for support, guidance, and response to health-related queries on Novel Coronavirus Disease (COVID-19).
Public is advised to strictly follow the advisories issued by the government from time to time and are urged to rely only on the information released by the government through the daily media bulletin to print and electronic media.
People are also advised to refrain from spreading rumours and pay no heed to them at the same time.