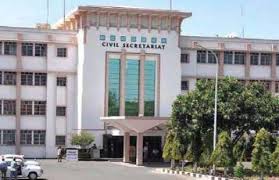 Srinagar, April 10: In an unprecedented move, the administration of Jammu & Kashmir on Friday reshaped the 148-year-old bi-annual practice of Dubar Move due to outbreak of deadly coronavirus.
Making a significant departure from the past practice, the government today ordered that civil secretariat will function from both capital cities of J&K at least till June 15 when it will review the arrangement after assessing the extent and spread of COVID-19.
According to the order, all offices in J&K highest's seat of power, civil secretariat, and other 100 offices will remain functional in both the capital cities during this period. The move employees shall work on" as is where is" basis i.e. Kashmir -based staff shall work from Srinagar and Jammu- based staff from Jammu.
The government has directed administrative secretaries and departments with single Head of Department (HOD) to ensure their functionality in their respective departments, both at Srinagar and Jammu. Interestingly, the government has also directed Srinagar Municipal Corporation (SMC) to carry out extensive fumigation and sanitation in civil secretariat, other moves offices, residential colonies and hotels being provided to employees.
Curiously, the government order is silent on the practice of shifting records from civil secretariat Jammu to Srinagar in the last week of April every year.
As per the practice, the civil secretariat and all other important offices of J&K would function from May to October in Srinagar. These offices would function in Jammu from November to April. The civil secretariat would shut in Jammu in last week of April and re-open in Srinagar in first week of May.
The practice of Durbar Move was started by Dogra ruler Dogra rulers in 1872 "to give fillip to economy of Jammu". The practice of Durbar Move has come under question from different quarters, with several governments of the state calling for abandoning the practice, but none could do much about it given the sensitivity of the issue and the cry of "regional discrimination."
In 1987, Farooq Abdullah-led government floated the idea of stalling the practice and constituted a committee to look into the matter. In its report titled "Durbar Move: The Reality", the committee pointed out that the exercise wastes nearly six to eight weeks of precious official time in packaging, moving and then settling down to work. In 2012, Chief Minister Omar Abdullah questioned the wisdom of Durbar Move, saying: "It is wastage of money and an escapist move."— (KNO)