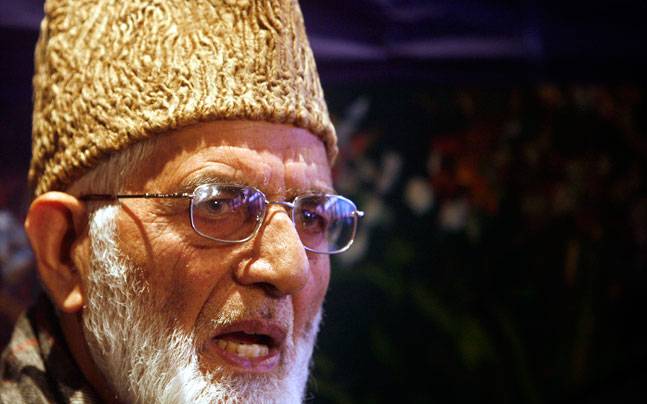 Srinagar: Chairman Hurriyat Conference (G) Syed Ali Geelani on Saturday chaired the amalgam's Majlis-e-Shoora (Executive Council meet) held an important meeting at Hyderpora Srinagar.
In his presidential address, Hurriyat (G) chairman said that chaotic and confusing situation has panicked every individual. Increasing the forces deployment, rumors of tempering special provisions of state, suspension of Yatra, evacuating tourists, students and yatries has created a war like situation, he said.
He said the mainstream politicians are the "real culprits" who made hollow these provisions just to grab luxurious (lives) for themselves and their progeny.
Hurriyat (G) chairman said, "The land grants bill was passed by them and their leaders even openly said that article 370 is not a divine saying which cannot be altered. State land was allotted to Shrine board and separate colonies to create state within the state was proposed by these collaborators, now they shed crocodile tears to protect them."
He said that those threatening Delhi rulers from here bow their heads just with an embezzlement enquiry.
"Even after surrendering every bit of their conscience and even faith, they are not trusted rather humiliated and thrown away. History stands testimony that every collaborator big or mighty meets same fate," Geelani said.
"For resistance camp these provisions were never existing as they have been booked in those cases which have no jurisdiction here. They were forced to be lodged in jails outside state long ago. Although these provisions were existing on papers only, still they have a historical relevance and are globally accepted as the legacy of dispute," he said.
Geelani said Indian rulers want to do with these on paper hurdles to enforce demographic changes as they did in 1947 in Jammu.
New Delhi must not forget that this is not 1947 and any such mischief will be resisted to the maximum, he warned.
Syed Ali Geelani said that recent geopolitical scenario and positive gestures by world leaders have once again negated Indian narrative of internal or bilaterally of Kashmir issue. It has again crossed over these false boundaries which has unnerved Indian establishment and they have resorted to the hysterical and unparalleled response, he said.
He asked Muslims of Kargil and Jammu to be vigilant, cautious and focused and assured them that they will not be forced to be at the mercy of "fascist forces".
"We should strengthen our faith and bonding with Almighty Allah, avoid immorality, extravagancy in our functions especially marriages," he said.