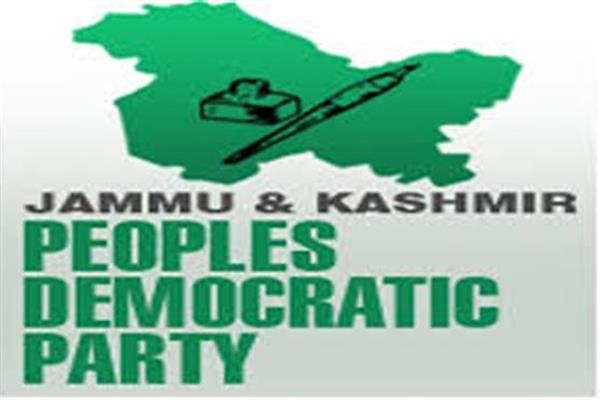 Srinagar: Peoples Democratic Party (PDP) has castigated Governor Malik over his appeal to militants to kill "corrupt politicians" and said that Governor Malik has arrogated the role of making bizarre, mischievous and uncalled for statements to himself.
In a statement , party General Secretary Ghulam Nabi Lone Hanjura questioned the equanimity of Governor Malik as a constitutional head of the state while making such bizarre and unnatural statements.
"Does he have even an idea of what he is saying? In a place like Kashmir where violence has been wrecking havoc for the past three decades, Mr Malik is trying to inject new life to vandalism and violence," says Hanjura.
The PDP statement has come after governor Malik appealed militants to kill corrupt government officials instead of "innocent people".
He added that Governor should understand that he is not a Bandit King of Chambal but a constitutional head of the state of Jammu and Kashmir where there is an accountability apparatus to probe corruption charges and there are law enforcement agencies to punish the corrupt.
"What Governor Malik is doing is a clear attempt to push the state to the precipice of disaster and anarchy. Those at the helm in Government of India must rack their brains and dispatch those people to Kashmir who are not in possession of jaundiced eyes and unbalanced personalities," said Hanjura.
According to the PDP leader, it would be advisable for the Governor to first ask his accountability apparatus to take action and establish guilt before seeking help of the militants to kill corrupt.
"There is a streak of misanthropy in Malik's character. For him, anybody who owns a two story house in Kashmir has to be a thief and should be killed. By making sweeping statements about anybody and everybody, Malik is degrading and downsizing the post of the governor," said Hanjura.
According to him while acting against the corrupt politicians and bureaucrats deserves adulation from one and all, putting lives of people particularly the political class in danger is condemnable.
"The political class is working amid the trying circumstances in Kashmir and instigating militants to kill them will turn the state into a hub of loot, pillage and plunder," Hanjura said.
The PDP General Secretary also questioned Governor's statement of jailing two former ministers of the state within 3 months.
"Why not now, why three months? Is Governor trying to threaten anyone to fall in line within this period or else he will be jailed? If there are graft complaints against anyone and you have evidence as well, why to wait for three longs months, why not to jail that person now? Who is Governor Malik trying to blackmail," asked Hanjura.