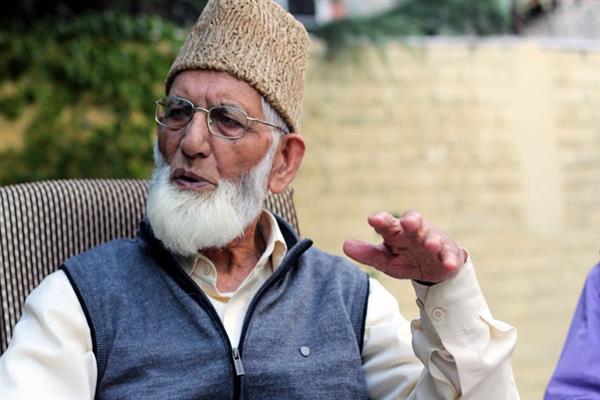 Srinagar: Hurriyat Conference (G) chairman, Syed Ali Geelani has said that the plight of political prisoners in and outside Jammu and Kashmiris is disturbing and painful not only for their families, but for the "whole nation".
In a statement he appealed for peaceful protests after Friday prayers in all parts of the valley including Chenab valley and Azad Kashmir to show the solidarity with these detainees.
Hurriyat (G) chairman said that one fails to understand, how world community affords to give a free hand to India, to snatch every right from the people, who have been made hostage to its egoistic and imperialistic oppression. "The so-called Indian democracy is so scared of pro-freedom leaders and activists and leaves no stone unturned to keep them behind bars on fictitious and false charges, propagated through their biased and hypertonic media houses," he added.
Lauding the unwavering commitment and courage of the incarcerated leaders including Mohammad Yasin Malik, Shabir Ahmad Shah, Masarat Aalam Bhat, Dr. G. M. Bhat, Dr. Mohammad Shafi Shariyati, Dr. Mohammad Qasim Faktoo, Asiya Indrabi, Fehmeeda Sofi, Nahida Nasreen, Altaf Ahmad Shah, Ayaz Akbar, Peer Saifullah, Raja Mehraj-ud-din Kalwal, Nayeem Ahmad Khan, Shahi-ul-Islam, Fraooq Ahmad Dar, Zahoor Ahmad Watali, Syed Shahid Yousuf, Syed Shakeel Ahmad, Mohammad Yousuf Falahi, Abdul Ahad Parra, Abdul Gani Bhat, Dr. Hameed Fayaaz, Sheikh Mohammad Ramzan, Mushtaq Ahmad Veeri, Abdullah Nasir, Gh. Qadir Bhat, Nazir Ahmad Sheikh, Mohammad Ayoub Dar, Tariq Ahmad, Muzfar Ahmad Dar, Mohammad Hussain, Pir Mohammad Ashraf, Mushtaq Ahmad Hura, Yasin Ahmad Hura, Samiullah, Asadullah Parray, Hakeem Showkat, Mehraj-ud-Nanda, Basharat Bazaz, Tariq Ahmad Pandith, Mohammad Hussain, Hilal Ahmad Beigh, Noor Mohammad Kalwal, Advocate Zahid Ali, Istiyaq Ahmad Wani, Dr. Mohammad Saleem, Moulana Sarjan Barkati, Abdul Hai, Asif Sultan and Abdul Rashid Shigan etc, pro-freedom leader said that world bodies particularly those working for human and prisoners rights should take note of these gross violations and ensure safe and early release of these victims of political vandalism and judicial onslaught.
He said that  khateebs and religious scholars should apprise the people about the prevailing situation here and guide them to achieve their collective goal.