Srinagar: Acting on the order issued by the State Pollution Control Board, the Deputy Commissioner Srinagar has ordered sealing of 16 hotels in and around Dal Lake on Posh Boulevard in Srinagar for unauthorized and defaulting commercial establishments.
The Deputy Commissioner has constituted a team of 7 officials headed by the sub-divisional magistrate of the concerned area and other revenue and SMC officials.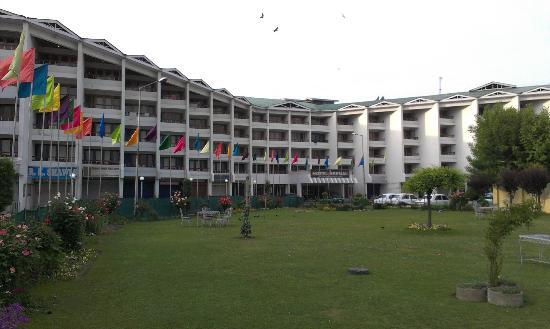 The commercial establishments include renowned hotel Heemal, hotel Zabarwan on main Boulevard road, hotel Season Palace, hotel New Green View Nehru Park, hotel Green view Nehru Park, hotel Leeward Nehru Park, Hotel Al-Hamza Kohna Khan, hotel Athene Kohna Khan Dalgate, Minar Guest House Pedestrian Mall Srinagar, Sheikh Resorts Pedestrian Mall Kohna Khan, New Raj Guest House Pedestrian Mall Kohna Khan, hotel Lake Scene Kohna Khan, hotel Malabar Kohna Khan, hotel Heevan Canal Abi Nowpora, hotel Kohn Lodh Harwan, and Royal Spring Resort Harwan Srinagar.
However, sources said that four of the above mentioned hotels have been occupied by the paramilitary forces and some officials. They said that Hotel Malabar is occupied by some senior police officials while hotel Heemal, hotel Leeward and hotel Athene are occupied by the personnel of CRPF.
They said that hotel Alhamza, hotel Minar Guest House, hotel Sheikh Resorts and hotel Heaven Canal have already been sealed by the concerned officials.
Regarding the four hotels which are occupied by forces, the sources said that the officials are yet to decide what to do with these hotels. "The bone of contention is that the forces do not want to vacate the hotels saying where should they go," the sources said, adding that officials are also not pushing for the same.
A top district official said that they received an order from the State Pollution Control Board to seal 16 hotels for violating the norms. "We have already sealed five to six hotels," he said, adding that there are some four hotels including Heemal where the SPCB has directed them to exempt them."
However, SPCB regional head Syed Nadeem told The Kashmir Press that he has not issued any such order to exempt the four hotels. "No such order has been issued from my office," he said, adding that no hotel violating the norms shall be allowed to function.
Meanwhile the concerned Sub-Divisional Magistrate Mr Bali told The Kashmir Press that no hotel shall be exempted. "We have served the seven days notice to these four hotels already and they shall be sealed come what may."