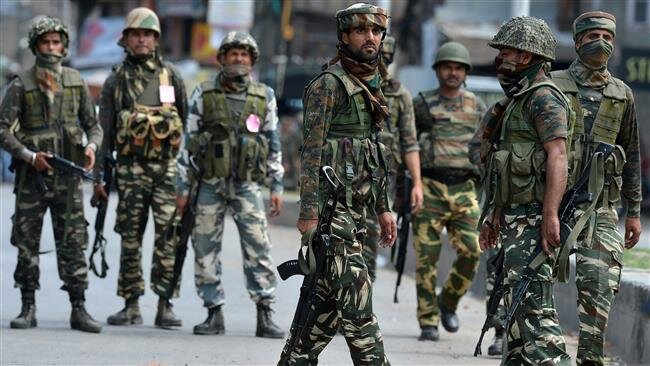 Srinagar: At least four militants were killed in separate gun battles in south Kashmir's Pulwama and north Kashmir's Sopore area on Saturday.
Three militants of Hizbul Mujahideen were killed in an encounter with government forces at Panzgam, Awantipora.
Police said one among the slain militants was involved in the killing of an army soldier Aurangzeb last year.
According to the police, joint team of army's 55 RR, SOG and CRPF launched a cordon-and-search operation (CASO) at Panzgam village today pre-dawn hours.
A police official said the cordon was laid after credible inputs about the presence of some militants.
"During the search operation, the hiding militants fired on the search party. The fire was retaliated leading to an encounter," the official said.
He said in the ensuing gunfight, three militants were killed and their bodies were retrieved from the site of encounter along with arms and ammunition and other incriminating materials.
The slain has been identified as Showkat Dar of Panzgam Awantipora, Irfan War of Wadoora Payeen Sopore and Muzaffar Sheikh of Tahab Pulwama, the officer said.
SSP Awantipora Tahir Saleem said Showkat was directly involved in the killing of the army soldier Rifleman Aurangzeb.
The slain trio, according to police records, was affiliated with Hizbul Mujahideen outfit.
"Showkat Dar had a long history of crime records. He was involved in planning and executing a series of attacks in the area and many other civilian atrocities. He was part of a group involved in the killing of Army jawan Aurangzeb. He was also involved in the killing of a policeman Aqib Ahmad Wagay last year. Several crime cases were registered against him," the police spokesman said.
After conducting all legal formalities, the bodies of the slain trio was handed over to their respective families for last rites, sources said.
While Irfan and Muzaffar are yet to be buried, the body of Showkat Ahmad Dar was buried amid pro-freedom slogans and spontaneous shutdown in his native village. Before his burial, thousands of people attended his funeral.
Fourth militant was killed in an encounter with government forces at Sopore area.
A joint team of army's 22 RR, SOG and CRPF laid a siege at Hatlangoo area of Sopore.
A police officer said the cordon was laid following specific inputs about the presence of a militant in a residential house.
The joint team of forces tried to persuade the militant to surrender, however, there was no response from him, the officer said. As such the joint team fired some warning shots, the hiding militant opened fire leading to a gunfight which lasted for a brief time, the officer said.
During the course of gunfight, the militant was killed and his body was recovered along with a weapon and other warlike stores from under the debris of the house, he said.
Sources said that in the incident, a residential house also got completely damaged.
The officer identified the slain militant as Waseem Ahmad Naik son of Abdul Gani Naik of Udipora Barsoo Awantipora.
According to sources, Waseem was missing since March this year. The family had accordingly filed a missing report in police station concerned.
Meanwhile, authorities suspended internet services in Sopore town as a precautionary measure in wake of this search operation.