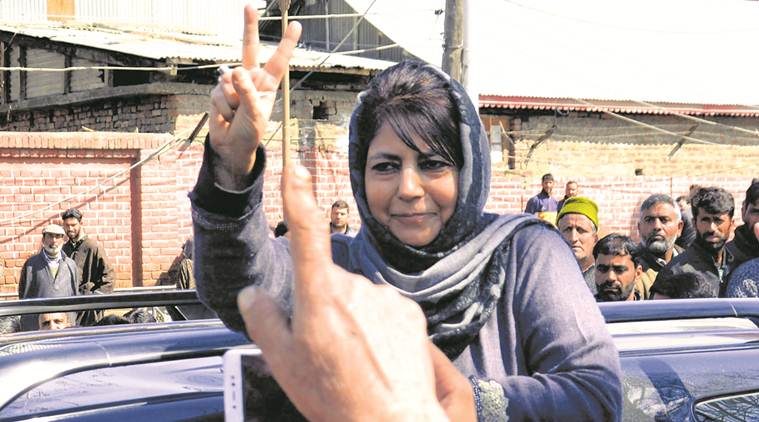 Anantnag: Since the party's inception in July 1999, the South Kashmir region comprising four districts Anantnag, Kulgam, Pulwama and Shopian has remained bastion of the People's Democratic Party (PDP), but the situation is completely different now.
The PDP is fighting for its survival and relying on party President Mehbooba Mufti's win in Anantnag parliamentary segment, which the party hopes would boost morale of the otherwise demoralized cadres.
In first-ever Assembly elections that the PDP contested in 2002, of a total of 16 Assembly seats from South Kashmir, the party secured win in 10 constituencies and in the subsequent parliamentary elections of 2004, Mehbooba Mufti emerged victorious from Anantnag Lok Sabha seat.
In the 2008 Assembly elections, PDP increased its overall tally from 16 to 21 seats. Unsurprisingly, it was South Kashmir again from where the party won 11 seats.
Then the Parliament elections of 2014 followed. Once more, PDP convincingly won the South Kashmir's Anantnag constituency seat.
In the 2014 Assembly elections; PDP won 11 segments from South Kashmir. The party won a total of 28 seats from across the restive state.
In the light of facts and analyses above, it would be completely safe to say that it is South Kashmir's four districts which have stood with the party through thick and thin and remained its stronghold.
However, time seems to be changed.
Now, the apparent impression one gets from the ongoing polls for the South Kashmir's Anantnag Lok Sabha (LS) constituency is that PDP-led Mehbooba Mufti is standing on slippery slope.
PDP President is not fighting against her political rivals only, but she is also up against the resentment, anger and unease among the people of her once bastion for her party's controversial alliance with the Hindu nationalist BJP in 2015 by late Mufti Mohammad Saeed and then again in 2016 by Mehbooba herself and human rights abuses witnessed during her tenure as Chief Minister from 2016 to June 2018.
Many political analysts reckon that people of South Kashmir have expressed their resentment towards PDP by boycotting the polls.
Interestingly, the election for South Kashmir's Anantnag Parliamentary constituency is being held in three rounds; on 23rd April District Anantnag went to polls; District Kulgam voted on 29th April and people in twin districts of Shopian and Pulwama are going to cast their vote on 6th May.
The staggered voting became necessary in South Kashmir because of the volatile situation and very high security concerns.
In the first phase, the picturesque district Anantnag comprising six Assembly segments (Bijbehara, Pahalgam, Anantnag, Shangus, Kokernag & Dooru) recorded a very low voter turnout of 12.86 per cent against 39.37 per cent in 2014 which gave a huge blow to the PDP's chances of winning the seat.
The party was banking on the Assembly segments of District Anantnag in general; Bijbehara & Anantnag towns in particular.
The Kashmir Press Exclusive
The abysmal voter turnout witnessed in the segments of Bijbehara (1893/93289: 2.0 per cent) and Anantnag (3030/86565: 3.5 per cent) added insult to the injuries of the PDP.
In the last Parliamentary polls held in 2014 in which Mehbooba Mufti defeated Dr Mehboob Beg, then a candidate of National Conference (NC), by a huge margin of 65,417 votes; it were these two Assembly segments which at that time had given leads of more than 10,000 votes respectively to PDP.
Besides, this time around other Assembly segments barring Bijbehara and Anantnag also recorded a low voter turnout. People in general preferred boycott.
Pahalgam on the other hand witnessed highest polling in the terms of percentage (20.05 per cent) followed by Kokernag (19.6 per cent); Dooru (18.04 per cent) and then last but not the least Shangus (15.1 per cent).
As far as Pahalgam is concerned, this constituency was last represented in the Legislative Assembly by National Conference's Altaf Ahmad Kaloo who still has a very strong base in the segment which gives JKNC an upper hand over there.
On the contrary, in Kokernag the outgoing MLA is PDP's Abdul Rahim Rather who has a reasonable support base in the area but has to fight it out with the veteran Congress leader Peerzada Mohammad Sayeed.
In Dooru, though PDP's Farooq Ahmad Andrabi managed a surprise victory against Ghulam Ah Mir in 2014 Assembly polls, it's the latter who holds a dominating position now thus handing over advantage to the Congress there.
Ghulam Ahmad Mir is Congress party's candidate as well for the South Kashmir's Anantnag LS seat.
Shangus in the last Legislative Assembly was represented by Congress's Gulzar Ahmad Wani but it's still PDP's Mansoor Hussain Sohrawardy who has a strong base in the constituency giving slight edge to PDP over there though JKNC's Reyaz Ahmad Khan can't be ruled out as well.
In the second round of polls that was held on 29th April, district Kulgam aka 'rice bowl of Kashmir' went to polls, but, as anticipated, the four Assembly segments in the district registered a low voter turnout; 10.02 per cent (lower even than Anantnag).
District Kulgam comprises segments viz Noorabad, Homshaalibugh, Kulgam & Devsar.
Noorabad polled highest in terms of percentage (20.58 per cent) followed by Devsar (16.84 per cent).
PDP is banking on the outcome of Devsar segment which was once represented by Mehbooba's uncle Sartaj Hussain Madni (2002-2014) and in the last Legislative Assembly it was Congress's Mohd Amin Bhat who represented the constituency.
Abdul Majeed Padroo of PDP defeated Sakina Itoo of JKNC in the last Assembly elections and represented people of Noorabad. JKNC was relying on Sakina this time, but low voter turnout washed away the party's hopes as well.
There was low voter turnout in other two Assembly segments of Homshaalibugh (1.14 per cent) & Kulgam (2.38 per cent).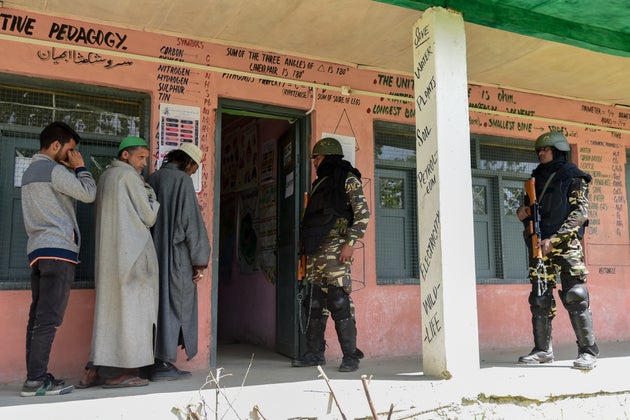 With lower voter turnout being witnessed in the first two phases, the significance of migrant votes (more than 40,000) has increased bringing Bharatiya Janata Party's Sofi Mohammad Yousuf into contest as well.
Ostensibly, the ongoing Parliamentary polls for South Kashmir's Anantnag constituency are going to be a litmus test for PDP President Mehbooba Mufti. If she manages to win the LS seat it will boost the morale of her party, in general, and that of her cadres, in particular.
The candidates in the fray are Justice (retired) Hasnain Masoodi of JKNC, Ghulam Ahmad Mir of INC, Mehbooba Mufti of JKPDP, Sofi Mohd Yousuf of BJP, Nisar Ah Wani of JKNPP, Chowdhary Zaffar Ali of JKPC, Sanjay Kumar Dhar of Manav Adhikar Party, Surinder Singh of Pragtisheel Samajwadi Party (Lohia) and Imtiyaz Ah Rather, Dr Ridhwana Sanam, Riyaz Ahmad Bhat, Zubair Masoodi, Shamas Khawaja, Ali Mohammad Wani, Kaiser Ahmad Sheikh, Manzoor Ahmad Khan and Mirza Sajad Hussain Beigh, all independents.
Views of PDP leaders 
Senior party leader and former legislator Mansoor Hussain Sohrawardy told The Kashmir Press: "Mehbooba ji has already represented Anantnag in the Lok Sabha twice (2004 and 2014) and has been Chief Minister of the state as well. So, it's not about her personal achievement but it's only about the people and their welfare''.
"At this point in time, people need a voice and it's only Mehbooba ji who can be the voice and face of the people of South Kashmir," he said.
''No doubt South Kashmir has remained our bastion but this time that isn't an issue but the matter is safeguarding Articles 370 and 35 A, defeating the communal agenda of BJP-RSS and the overall development of  people'' Mansoor added.
He informed, "our senior leaders like Abdul Rahman Veeri and Dr Mehboob Beg were ready to contest but it was the party cadres who insisted Mehbooba ji to fight and become the voice of people in these testing times''.
Najmu Saqib, party's additional spokesman said, ''South Kashmir is where the battle for existence of mainstream is being fought. Disenfrenchisement whether through rigging or engineered disturbances was the official strategy of some for usurping power''.
"It was PDP which rose from South Kashmir and pioneered the idea of inclusive democracy & challenged the jagirdarana qaabza of the political elites,'' Saqib said.
''People of South take pride in having created an alternative to politics of deceit officiated by NC and conversely PDP takes pride in its South Kashmir'' he added.
Another senior party leader said on the condition of anonymity, ''yes, indeed we are confident of winning but if Mehbooba ji's loses it will be a huge blow for the political future of the party''.