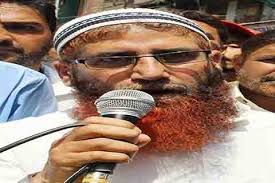 Srinagar: Police have arrested Jammu Kashmir Liberation Front zonal president Noor Muhammad Kalwal and lodged him at police station Kothi Bagh Srinagar, JKLF chief spokesperson Muhammad Rafiq Dar said on Tuesday.
The spokesperson while condemning the arrest of Noor Kalwal and prolonged incarceration of others, said: "Suppressing political dissent by banning organizations, arresting political leaders, activists, scholars and businessmen, using agencies like NIA and ED and colonial type laws and tactics to prolong their incarceration is nothing but travesty of justice and democracy."
He said that boycott of elections by "about 90 percent" Kashmiris "should serve as an eye-opener to Indian leadership, politicians, biased media and oppressive forces as this is the democratic verdict of the people of Kashmir".
"Putting political leaders, activists, religious scholars and civil society members in jails can never succeed in suppressing the voices for freedom of Kashmiris who have resolved to keep on striving for their right to self-determination and achieve this sacred goal at every cost," Dar said.
Meanwhile, according to the statement, JKLF protests against "illegal" detention of party chairman Muhammad Yasin Malik and others, banning of JKLF, shifting Malik to Tihar Jail, Delhi and "torturing" him, continued in many cities in the world.
Demanding the immediate release of Yasin Malik and lifting ban on JKLF, the protesters appealed the international community to intervene and use their offices to "save Yasin Malik and other politically detained or jailed pro-freedom Kashmiris".