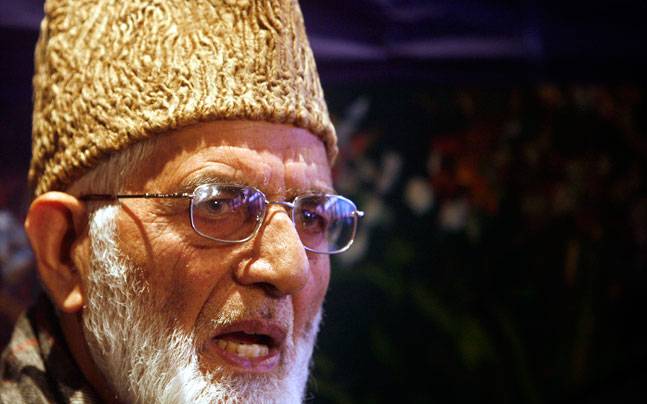 Srinagar: Hurriyat Conference (G) chairman Syed Ali Geelani has strongly condemned the "dastardly acts of strangulating" the already ailing economy of the Jammu and Kashmir.
The Hurriyat (G) spokesperson in a  statement said that the blockade of trucks loaded with fresh fruits, vegetables, livestock and other necessary edibles has rendered the wide section of business fraternity bankrupt and jobless.
Heavy financial losses and a wide range of debt trap are being deliberately knit to destroy the economy of Jammu and Kashmir, he said.
Displaying solidarity with the fruit growers association at Parimpora Srinagar, a high level delegation of Hurriyat (G) on the direction of its chairman Syed Ali Geelani visited Fruit Mandi Parimpore.
"The delegation also expressed its solidarity with the contractors union who have been marginalized and ignored in all the state constructional activities as compared to the non-resident contractors of the state," the statement said.
Meanwhile Geelani was admitted in SKIMS this morning after complaining abdominal pain, a statement said.
It said Geelani was yesterday seen by doctors of gastroenterology department at super specialty hospital Shireen Bagh Srinagar and was diagnosed to be having large intestinal infection for which he needs admission in hospital.
At SKIMS concerned doctors attended the ailing leader and have put him on treatment and advised some investigations. He is physically weak and frail but stable, the statement said adding that people are requested to pray for his speedy recovery.
Meanwhile,