Srinagar: Pakistan Army Media Wing's Director General Major General Asif Ghafoor on Monday said that it is important for Pakistan to sort out issues with India and [on the] top of those issues is Kashmir.
Addressing a Press Conference, Ghafoor while discussing Pakistan's engagements with regional countries recalled Islamabad's facilitation of the Afghan peace process, the visits by the army chief and the prime minister to Iran and Saudi Arabia, and the cooperation with China. "Other countries will only understand your narrative when you talk to them," he said.
"CPEC (China-Pakistan Economic Corridor) is not only a north-south link. To establish proper economic activity, it is important that an east-west link is also developed so that Pakistan can gain access to Central Asia. The question is, will India understand this? It is important to sort out issues with India and [on the] top of those issues is Kashmir.
Ghafoor said support for  people of Kashmir "runs in our blood." "Support for our Kashmiri brethren runs in our blood. We will do whatever it takes for their independence."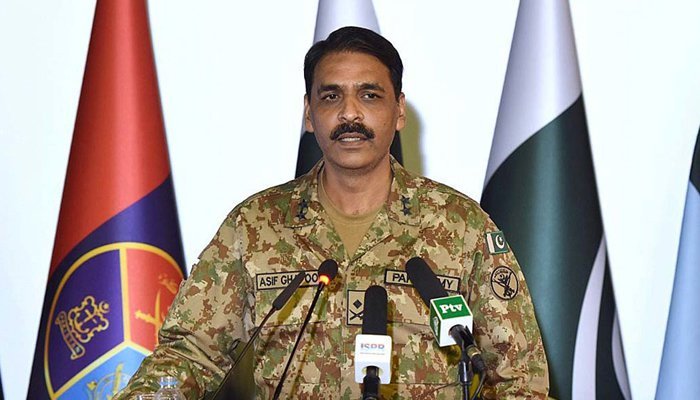 "If India is sincere for peace in the region, they should hold talks and resolve the Kashmir issue," he added.
On the recent border tensions, Major General Ghafoor said the neighbouring country was continuing to spew lies.
"Since the last two months India has been continuing to lie. As a responsible country we have not responded to their lies. Lies have to be repeated again and again. Truth only needs to be spoken once," he was quoted as saying by Geo Tv.
"The truth is that there was an incident in Pulwama. Attacks on the police in Pulwama have happened before. There was no damage at our end in Balakot. We took local and foreign media there to show them [the truth].
"We will facilitate Indian media if they choose to come to Balakot to see the truth," the DG ISPR offered.
"When there is a war you receive reports from the ground. When I was to come for the press conference, I tweeted based on reports that there were two pilots. After the news conference, reports were cleared and there was one pilot as the reports received were from two different spots.
"We are waiting for the appropriate time to honour our pilots who downed the Indian planes," he said.
"India has not said what happened in Pakistan's counter-strike. Who was at the brigade headquarters when Pakistan conducted the strike?" the DG ISPR questioned.
"On 28th [February] when India was preparing to fire missiles, what happened at the Line of Control that night? How many gun positions did you have to change?"
He further said that the concept of Hindutva in India, as a result of which Muslims have been targeted there, raises genuine concern for Pakistanis. (Agencies)