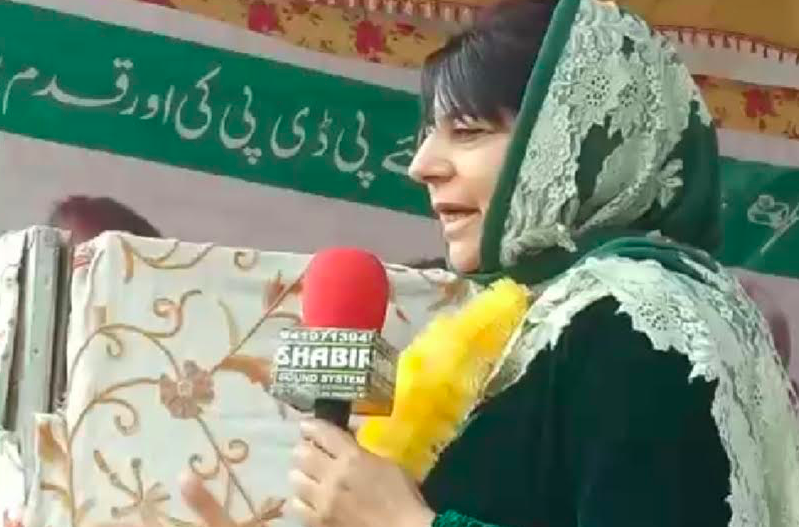 Larnoo: Former Chief Minister and Peoples Democratic Party (PDP) candidate for the Anantnag parliamentary constituency, Mehbooba Mufti said that if she had not risen to the occasion 15 years ago, people of Kashmir would still have been 'bonded laborers' of forces,
Addressing twin rallies in Larnoo area of South Kashmir, PDP chief said those who were questioning PDP's rule should know; "Had I not worked on the ground zero to save Kashmiris from the tyranny of Indian Army, you would still have been doing begaarie (Kashmiri word for bonded labouers) ".
"Revocation of POTA, disbanding Ikhwani's (pro-government militias), starting Salamabad-Muzzaffarabad bus service, releasing separatist leaders like Syed Ali Shah Geelani, initiating dialogue with Pakistan and Hurriyat leadership was only possible because of party founder Late Mufti Mohammed Sayeed's pro-people policies".
Mufti said despite all this, people of Kashmir gave only late Mufti Mohammad Sayeed, 28 seats while as BJP got 25 from Jammu leaving him with no chance other than joining hands with them.
Throwing light on her own tenure she said:
"Ceasefire in the month of Ramadan, rehabilitation of gujjars in the Jammu belt,sacking two BJP ministers for their alleged role in Rasana rape case,overall infrastructure development of the entire state,safeguarding Articles 370 & 35 A etc are the real main highlights of my rule".
While appealing people to vote in her favour in the upcoming LS polls she said people of South Kashmir have always been wise enough in choosing their candidates and this time as well you people will choose the right representative.
Senior party leaders Farooq Andrabi,Abdul Rahim Rather and others were also present on the occasion.
Editors Note: The earlier new copy consisted of the word 'Beggar' instead of Begaarie (bonded laborer) since the word was misconstrued by the desk. We offer our sincere apology.