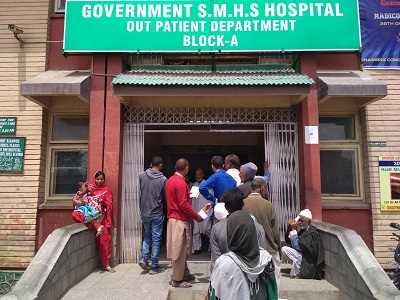 Srinagar: Despite more than twenty days have passed when the shocking episode of illegal nexus between doctors and a private diagnostic center surfaced, the SMHS hospital authorities and Government Medical College (GMC) are passing the buck at each other instead of initiating the probe to look into the serious issue.
"The report about SMHS doctors who are forcing me and the other attendants to get their clinical tests done from SRL-Ranbaxy is known to the press and also to the public," Firdous Ahmad, a resident of Zainakadal, said.
Ahmad earlier said he was forced by doctors to conduct medical tests from SRL Ranbaxy after his mother, admitted MRD number was 167697, was hospitalized at SMHS hospital.
"Following the incident, I put a complaint before the Medical Superintendent SMHS. He assured me of action but nothing happened".
Ahmad said that on Friday he approached the Medical Superintendent, Nazir Chowdhry, after 15 days to know as to what has been the status of his complaint.
"I gave him a written complaint. He has told me to give written complaint. Today he told me that GMC Principal Dr Samia Rashid has constituted a probe committee to look into the matter," Ahmad said.
"He told the result will come out soon. But did not gave any time line".
"But, when I talked to GMC principal Samia Rashid she said no such things (probe) have been started".
He said the callous attitude of the doctors and hospital authorities towards this serious issue has left him shocking.
"I believe hospital authorities are trying to protect the doctors who are doing illegal dealings with the SRL Ranbaxy diagnostic center," Ahmad said.
Earlier, the Kashmir Press has carried a story that how doctors at SMHS hospital, in nexus with private SRL-Ranbaxy diagnostic center, were forcing patients to get their tests done from the very lab, thus violating the hospital protocols.
The doctors besides calling the SRL-Ranbaxy officials, also gave access to the private lab officials to take the samples.
The SMHS authorities had maintained that they had no idea about the issue, but said if it was happening it was a crime and against the hospital rules.