Srinagar: The Joint Resistance Leadership on Saturday called for a shutdown on Sunday against the "arbitrary mass arrests, nocturnal raids, state repression, killings, censorship and any tampering with article 35-A.
In a statement, the leadership said that the "arbitrary arrest of JKLF chairman Mohammad Yasin Malik and the mass crackdown and illegal detention of more than 200 Jama'at-e-Islami cadre" and leadership including its Ameer Abdul Hamid Fayaz last night in nocturnal raids across the valley looks to be not only part of the continued policy of "suppression" of pro-self-determination leadership and narrative, but in the case of hearing of 35-A in Indian Supreme Court most likely on Monday, an indication of what may be expected.
The statement said that the leadership strongly condemns this dictatorial policy of cracking the whip and arbitrary arrests against Kashmiri's by those calling the shots in J&K.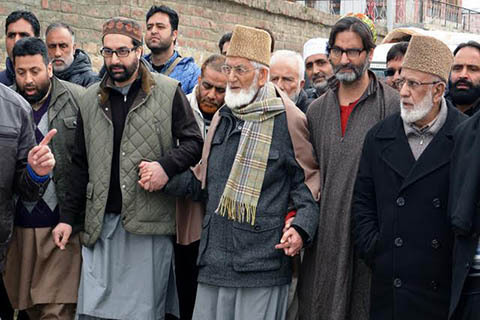 JRL Leaders Syed Ali Geelani, Mirwaiz Umar Farooq and incarcirated Mohammad Yasin Malik said that deployment of additional 12000 paramilitary forces on an urgent basis also indicates that something is cooking in this regard.
Leadership said that challenge to heredity state subject law is an extremely important issue for the people as it is akin to our very existence as a people and directly linked to the Kashmir dispute.
"The spontaneous shut down and protests across the valley against even the thought of tempering with the law should leave no doubt in the minds of those who have left no stone unturned to choke and muzzle the voice of Kashmir and are breaking records in repression, that the people of Kashmir will never allow it. Entire people and pro people leadership of J&K are one on this.
"Arbitrarily arresting and jailing leadership activists and youth across the valley for their political beliefs has been an ongoing process for the last thirty years. Under one pretext or other, government has been following this as a state policy against those associated with the people's movement to suppress the movement. Thousands of Kashmiri political prisoners are languishing in jails in India, punished for their ideology, an ideology that finds echo in the heart and mind of each Kashmiri. Leadership said that the last 30 years have shown that jailing and intimidating activists and leadership will not deter them from their path nor will it stop people from demanding the resolution of the Kashmir dispute through self determination."