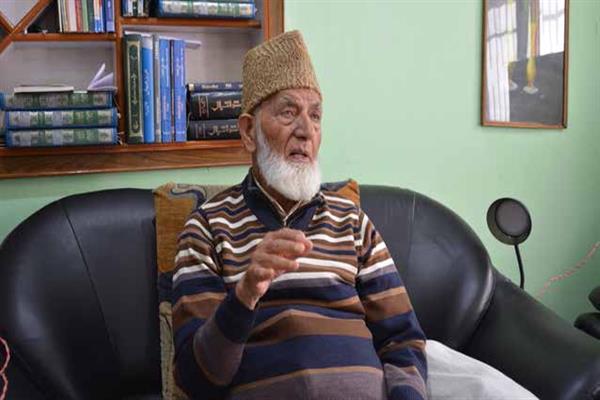 Srinagar: Hurriyat Conference (G) Chairman, said India had no right to "celebrate its Republic Day in Jammu Kashmir as they have occupied our land with its military might and its presence has tormented all ethics of human and international norms," said Hurriyat Conference (G) chairman, Syed Ali Geelani.
Hurriyat (G) chairman said that India claims to be a large democracy in world but virtually stand exposed in Jammu and Kashmir and is trampling all basic and fundamental rights since last seven decades.
"The very existence of this kind of ruthless state-craft has resulted in gross violations of human rights in the every nook and corner of Jammu and Kashmir. People are left at the mercy of occupational military regime, which kills common people in the broad day light and in the custody, showers of bullets and pellets on the peaceful protest marches, leaving thousands of people, irrespective of gender and age, maimed, disabled, blind and half dead, has become a routine matter," Geelani said.
"We have no animosity with India or its people and they have every right to celebrate their Republic Day within its states, but despite their being rhetoric about democracy they have no moral and legal right to celebrate it in world recognized disputed land of Jammu and Kashmir".
Geelani stressed upon school going children, their parents and teachers to stay away from all the Jan 26 celebrations and asked them to realize their "obligations towards the nation".