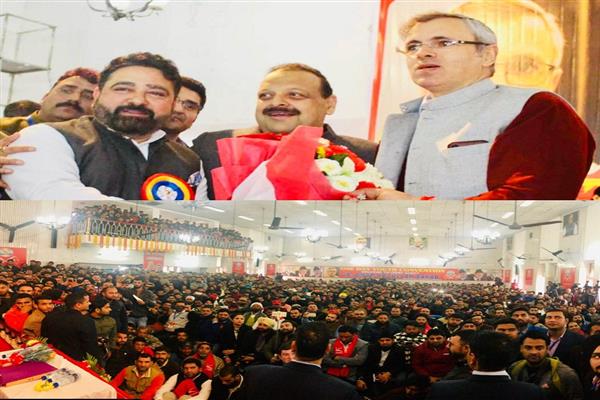 Srinagar: National Conference (NC) Vice President Omar Abdullah while describing increase in "terror related violence as alarming and disturbing," said "terrorism is raising head in the hitherto militancy free areas.
"Compared to just a dozen or more youth drawn towards militancy in a span of years during my tenure as Chief Minister, far more than this number are taking to arms on monthly basis", Omar Abdullah said while addressing a day-long convention of Youth National Conference, Jammu Region at Sher-e-Kashmir Bhavan here.
"In my tenure, Chenab Valley had been declared as militancy free zone but now the acts of terror are reported from there", he said and refereed to the killing of a BJP leader in Kishtwar along with his brother, terror attacks in Sunjwan and as latest as recently grenade throwing in busy B. C Road in Jammu. He said terror activities have unfortunately become routine in the Valley and due to lack of vision it is spreading its tentacles in other parts as well.
The former Chief Minister blamed the BJP and PDP for shrinking the space for youth by throttling avenues of jobs for them, resulting in alienation.
He particularly referred to most provocative and proactive anti-youth mindset of the former Chief Minister Mehbooba Mufti and questioned her moral grandstanding in seeking support of youngsters by expressing so-called remorse over mayhem unleashed by her government against them to placate the BJP.
"Ms Mufti must not mistake public memory too short, as not to remember her 2016 doctrine that the guns in the hands of the security forces were not just for showcasing but using", he said and referred to killing and maiming of teenagers.
Omar sought an end to youth alienation by engaging them in positive pursuits and reiterated the commitment of National Conference to work for carving out vistas of opportunities for them. He lauded the spirit of public service among youth participating in the convention and described them as hope of the extended NC family.
"We owe our youth a peaceful, progressive and inclusive Jammu and Kashmir for bequeathing to the posterity", Omar Abdullah said, adding the NC cadre will have to work overtime to retrieve the state of yesteryears when people used to live in harmony.
Omar said he was aware of youth problems and resolute to solving these once National Conference is provided an opportunity to serve the state. He lamented that initiatives like Himayat, Udaan and SKEPWY initiated between 2009 and 2014 were either abandoned or pushed to back-burner by the PDP-BJP government, depriving youth of the job openings. He said whatever little jobs were provided in their misrule of three and half years, have gone to their kin, relatives or favourites but not to the genuine, deserving and poor educated unemployed.
National Conference Vice President said youth were being ignored and just misled by false promises. In this context, he made a mention of BJP government's proposed bill on 10 per cent reservation in jobs and education to economically weak segments in the general category across the country and questioned intentions of the Centre.
"If BJP was really sincere towards youth, why such a bill has been slated for the last day of Parliament Session", he asked and advised BJP not to test the sagacity of people who understand the motivation behind such move. He said the BJP has a definite game-plan to generate passions in case the bill faces rough weather in Parliament or does not stand to the scrutiny of courts. "The BJP design in such an eventuality is to tell to the people that they had brought the bill, which was not allowed to sail through", he added.