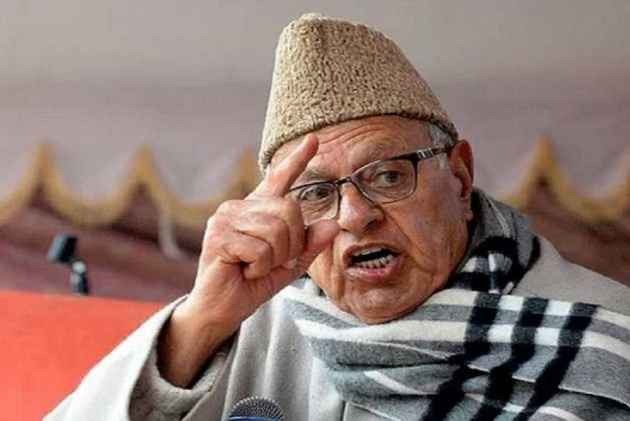 Srinagar: National Conference president and former three time chief minister Dr Farooq Abdullah on Sunday claimed that late Abdul Gani Lone after his (Farooq Abdullah's) sacking as chief minister by then Jammu and Kashmir Governor Jagmohan was instrumental in starting armed struggle in Kashmir and regretted later.
Talking to reporters after attending Fateh Khawani of noted Advocate late Ghulam Mohi-u-din Wani (Zainpori) in Baramulla, the NC president said, "After my government's dismissal by then governor Jagmohan, late Abdul Gani Lone came to me and said that he (Lone) will introduce armed struggle from Pakistan administered Kashmir but I told him not to do that for God's sake as It will endanger the lives of youth and chastity of women in Kashmir. He (Lone) was instrumental in starting the armed struggle but regretted later."
Countering the allegations of dynasty politics from Peoples Conference chairman Sajad Gani Lone, the NC president said, "What is he (Sajad Lone). He is also the product of dynasty politics."
When asked about recent allegations from Sajad Gani Lone, Farooq Abdullah said, "I will counter his allegations at the appropriate time and make him to render accounts of his own deeds."
Stressing that the idea of extending outside support to a PDP led government was focused on a united fight against Article 35-A and Article 370, Farooq Abdullah said;
"The government with the support of National Conference would last for few months and call for general elections later after putting up a strong challenge to petitions filed against Article 35-A and Article 370 in the Supreme Court of India, adding that "had the NC been in power the tinkering with institutional framework of J&K Bank and Permanent Resident Certificate (PRC) rules won't have seen the light of the day."
When asked about his party's stand on autonomy, the NC president said, "There is already an assembly resolution and we will not rest till the autonomy is restored".
Welcoming the opening of Kartarpur corridor, Farooq Abdullah said, "Opening of such more roads between the divided parts of Jammu and Kashmir is the way to help people of the two sides come closure and not let them feel isolated."