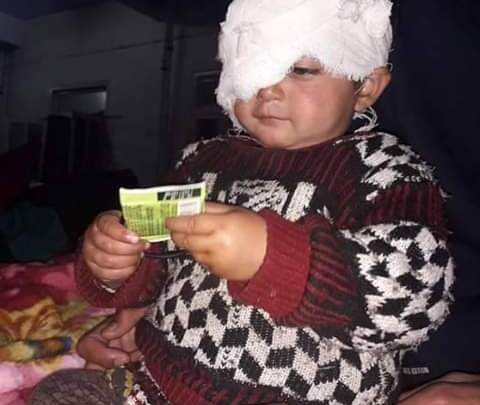 Shopian: After  forces fired pellet at 20 month old girl Hiba Nisar, leaving her right eye severely injured, the government on Friday announced Rupees one lakh for her treatment.
The monetary assistance was announced by Deputy Commissioner (DC) Shopian Dr Owais Ahmed.
DC assured Hiba's parents that government would provide the baby girl with all kind of support possible for her early recovery.
The parents of Hiba said she sustained injuries after government forces fired pellets at Hiba, her mother and her brother.
"My wife had covered the face of Hiba, otherwise pellets would have got pierced on her whole face," Hiba's father, Nisar Ahmad said.
 The incident happened last Sunday when clashes broke out after an encounter left a trooper, six militants and a civilian dead in Kulgam.
"We live at Kapran," Ahmad said.
"My son was complaining of difficulty in breathing due to constant tear gas shelling that day. My wife tried to take him and Hiba out of the house. The moment they stepped outside the house, they were showered with bullets".
The doctors at the SMHS hospital said that they are not sure that Hiba will regain vision again in her right eye.
"Her condition is not. Our fingers are crossed," a doctor. treating little Hiba, said.