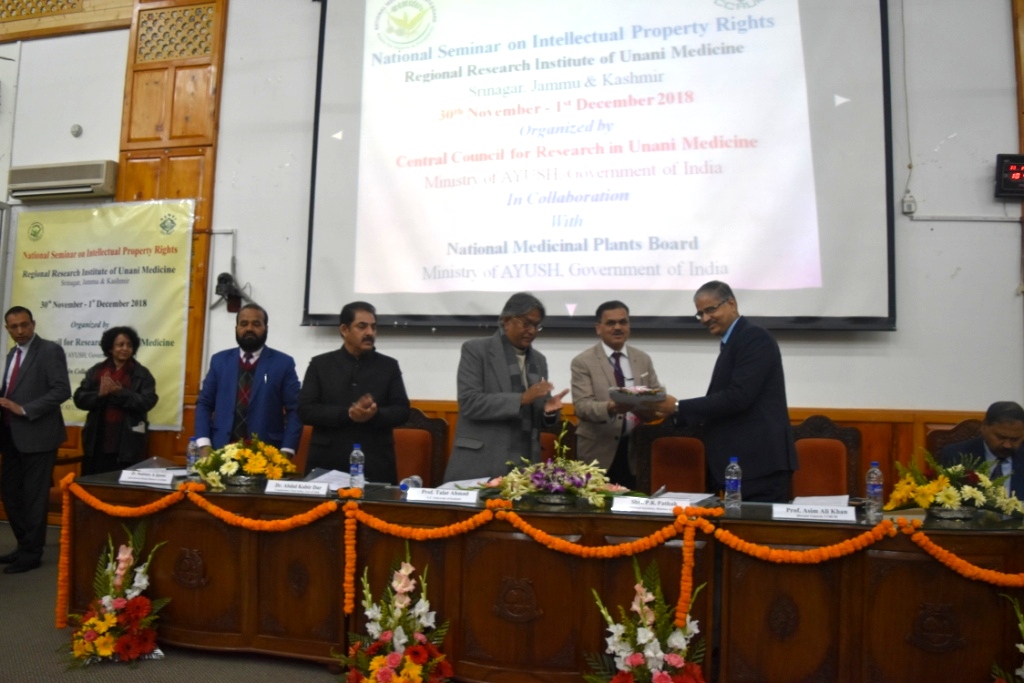 Srinagar: Central Council for Research in Unani Medicine, New Delhi through its Regional Research Institute of Unani Medicine (RRIUM), Srinagar in collaboration with National Medicinal Plants Board organized a National seminar on Intellectual Property Rights (IPR) in EMMRC, University of Kashmir.
The CCRUM, New Delhi has been making concerted efforts to provide scientific basis to Unani System of Medicine and make it acceptable to the modern and scientific world.
The National seminar was conducted with an aim to create awareness on Intellectual Property Rights (IPR) among people, particularly scientific community to get more and more patents in their names.
IPR contributes enormously to national and state economies.
Hundreds of industries and institutions across our economy rely on the adequate enforcement of granted patents, trademarks and copyrights while consumers use IPR to ensure that they are purchasing safe and guaranteed products. CCRUM, New Delhi, has been granted 16 patents by Indian Patent Office, so far and many patent applications are in pipeline.
The seminar was inaugurated by the Chief guest.Pramod Kumar Pathak, Additional Secretary, Ministry of AYUSH, Govt of India in presence of eminent guest and Vice Chancellor Kashmir University, Prof.Talat Ahmad, Professor Asim Ali Khan, Director General, CCRUM, Ministry of AYUSH, Govt. of India hosted the event on behalf of CCRUM and its regional institute RRIUM, Srinagar.
He delivered the inaugural/welcome address and welcomed chief guest, speakers, and participants.
In addition to chief guest, eminent guest the guests of honour, Dr.Abdul Kabir Dar (Commisioner Food and Safety Govt. of J & K), Dr.Mohd Tahir (Advisor, Unani; Ministry of AYUSH, Govt. of India and Dr.M.A.Qasmi (Joint Advisor Unani; Ministry of AYUSH, Govt. of India also expressed their views during the inaugural session.
Vote of thanks was given by Dr Seema Akbar, Assistant Director in charge, RRIUM, Srinagar.