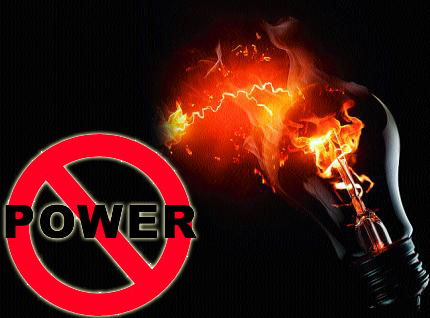 Srinagar:Almost entire Kashmir valley, including summer capital, Srinagar, plunged into darkness during the past 24 hours due to major power breakdown following light to moderate snowfall, exposing the Power Development
Department (PDD) claims to have made all arrangements for electricity supply to consumers during winter.

Power supply remained affected even after Advisor to Governor Khursheed Ahmad Ganai, during a meeting on Saturday evening, directed the PDD officials to restore the supply immediately.

However, Chief Engineer PDD Kashmir, Hashmat Qazi, on Saturday evening said that heavy snowfall in the Valley has resulted in trees with thick foliage coming down heavily on electrical lines damaging most of the 33KV lines resulting in power disruption.

Immediately after snowfall started in Srinagar yesterday afternoon, electricity supply to major parts of the city were snapped affecting government offices, media organisations, business establishments. Power breakdown will badly affect water supply in the city. Reports of disruption of power supply were also received from almost all parts of the valley.

It is reported that due to snowfall, transmission lines were damaged as at some places, trees were uprooted and fell on them (lines) disrupting power supply. However, people questioned the claim of PDD that the department was ready to face any situation and will provide power supply to people during winter. The department was actually buried under few inches of snow as entire city is plunged into darkness.

"We are actually facing the frequent and unscheduled power cuts since the civil secretariat, seat of the government, including the office of Governor, his advisors, top bureaucrats closed here to reopen in winter capital Jammu on November 5, alleged the residents of uptown. Power curtailment will continue till the government returns to summer capital, Srinagar, they said.

An official spokesman last evening said that advisor to Mr Ganai on Saturday chaired a joint meeting of PDD and PHE departments to review their functioning. During the meeting, Advisor Ganai directed the officials to stay cautious and alert in the functioning of their respective departments so that no inconvenience is faced by the general public. He asked the officers concerned to have buffer stock in respect of transformers so that in case of damage, same is restored immediately.

He instructed the Chief Engineers to immediately carve out a circular for the grassroots level officers and engineers to strengthen restoration process in the shortest possible time, so that no inconvenience is faced by the general public. Advisor Ganai and Divisional Commissioner directed the officials to take strict action against erring officials who are found indulging in dereliction of duties