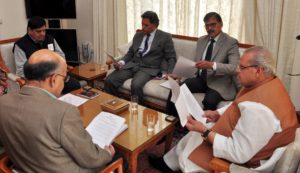 Jammu:  The State Administrative Council (SAC) which met here today under the chairmanship of Governor, Satya Pal Malik approved "The Jammu and Kashmir Municipal Laws (Amendment) Bill, 2018" paving the way for election of Mayors and Deputy Mayors of the Municipal Corporations and Presidents and Vice Presidents of the Municipal Councils/Municipal Committees through secret ballot.
The meeting was attended by Advisors, B B Vyas, K Vijay Kumar, Khurshid Ahmed Ganai and Chief Secretary B V R Subrahmanyam.
The decision, in this regard, has been taken in order to remove the anomalies between the provisions of the Municipal Acts, after their amendments through the Jammu and Kashmir Municipal Laws (Amendment) Act, 2010 and relevant Regulations/Bye-laws framed in the year 2005 under the original Act of 2000.