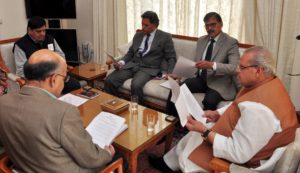 Srinagar: The State Administrative Council (SAC), which met here today under the chairmanship of Governor, Satya Pal Malik, approved honorarium for Sarpanchs and Panchs to be elected in the ensuing Panchayat elections.
The SAC decided that the Sarpanchs will be paid monthly honorarium of Rs 2500 and Panchs Rs 1000.
The meeting was attended by Advisors, B B Vyas, K Vijay Kumar, Khurshid Ahmed Ganai and Chief Secretary B V R Subrahmanyam.
The  Sarpanchs and Panchs are being compensated for the onerous responsibilities to be discharged by them under the new Panchayati Raj System being put in place in the state, the SAC decided to pay them honorarium as a token of encouragement, the government stated.
The SAC hoped that the provision would infuse enthusiasm among the elected Panchayat members- the election for which is being held in nine phases, starting from Nov 17, 2018.