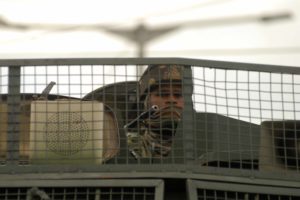 Sopore: Two militants, one soldier were killed while a government force personnel sustained injuries in the Sopore encounter that erupted during intervening night of Aug 2 and Aug 3.
"One army man and policeman have sustained Injuries and two militants have been killed," police officials confirmed.
The second holed up militant was killed after fresh firing erupted at the site and forces pushed for the final assault.
"One body was seen lying near the site through drone surveillance earlier near Makayi fields," he said.
Officials however added that bodies have not been retrieved from the site and combing up operation is in progress.
"Identity of the militants has not been ascertained yet," he added.
Officials said two Army soldiers were also injured in the encounter. 'The injured were immediately taken to a hospital, where one of them succumbed.'
Army, Police, CRPF jointly launched anti militancy operation in dursoo behrampora village of Sopore subdivision of baramulla district after specific inputs about militants presence in the area during night.
Clashes erupted in the area as the forces were engaged in the exchange of fire.
Clashes erupted in pulwama as well after rumours spread that a newly recruit from pulwama has been killed in sopore.
Amid rumours that a local militant from sopore has been killed as well situation in the volatile sopore is tense.
Meanwhile,  authorities suspended mobile internet service in Sopore . They said authorities also ordered closure of educational institutions as a precautionary measure to prevent any demonstration.
Shops and business establishments remained closed in Sopore and adjoining areas. Traffic was also off the roads since morning, though there was no strike call by any organisation.