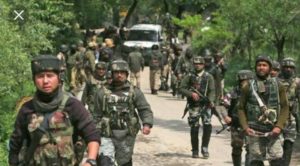 Srinagar: Government forces have launched a massive hunt to recover four weapons looted by militants from a police post, guarding the residence of a politician in south Kashmir, where road patrolling has also been intensified after recovery of a powerful Improvised Explosive Device (IED) planted on the roadside yesterday.

Official sources said on Friday that security forces and state police have launched a massive hunt against the militants who decamped with four automatic weapons from a post at the residence of former Congress leader Mohammad Shafi Banday at Bona Bazar, Shopian on Thursday night.

A police spokesman, confirming the incident said militants of Hizbul Mujahideen (HM) are involved in the loot of weapons.

Over a dozen incidents of weapon snatching from security force personnel were reported in the valley, particularly in south Kashmir, during the past about a year.

Later, a directive was issued to police personnel to avoid using mobile phones during sentry duty to avoid weapon snatching incidents.

A number of government force personnel also deserted their units and decamped with service weapons before joining militancy in the valley.

Meanwhile, government forces, already on high alert, have been asked to intensify road patrolling following recovery of 20 kg IED, planted by militants on the roadside at Hundoora in Tral in Pulwama district yesterday.
However, the IED was later defused by the Bomb Disposal Squad (BDS) without causing any damage.

Had it not been detected and defused it would have caused much damage to life and property, they said. (UNI)