Johannesburg: Meeting for the third time in nearly three months, Prime Minister Narendra Modi and Chinese President Xi Jinping on Thursday agreed to maintain the "momentum" generated by their recent interactions and provide "proper instructions" to concerned stake holders to maintain peace at the border.
Both sides were willing to consolidate and develop a closer development partnership. 
"It is important to maintain this momentum and for this we should, at our level, regularly review our relationship and give proper instructions whenever required," Mr Modi told President Xi in his opening remarks during the bilateral meeting between two leaders on the sidelines of BRICS Summit here.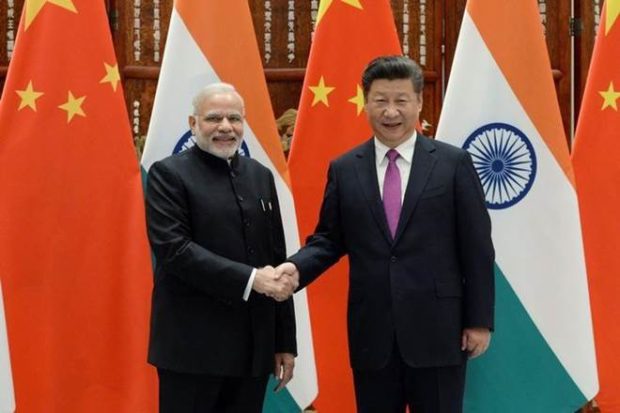 Later briefing reporters, Foreign Secretary Vijay Gokhale said Prime Minister Modi expressed his willingness to send National Security Adviser Ajit Doval to China this year for the Special Representative-level boundary talks.
"Both the leaders made a reference to their informal summit meeting in Wuhan in April as well as the subsequent follow up meeting in Qingdao in June. They were particularly satisfied with the efforts being made by the officials of the two sides to strengthen bilateral engagements," he told reporters.
It was a "very productive" meeting, he said.
President Xi Jinping and PM Modi, who are here to attend the 10th BRICS Summit, met for the third time in nearly three months. The two leaders held a two-day informal summit in the Chinese city of Wuhan in April. Then again in June, they met on the sidelines of the Shanghai Cooperation Organisation (SCO) Summit in Qingdao.
Recalling the recent meetings with Xi, Prime Minister Modi said they have given a new strength to India-China ties and also provided new opportunities for bilateral cooperation.
Mr Modi said latest bilateral meet has provided one more opportunity to them to strengthen their closer developmental partnership.
The two leaders also agreed to implement some of the understandings and decisions reached at Wuhan, Mr Gokhale said.
Chinese President Xi Jinping, according to a report by Xinhua news agency, said that China is willing to consolidate and develop a closer development partnership with India.
"We have provided a top-level design for bilateral ties in a macroscopic perspective and a timely fashion, which is conducive to mobilizing the positive elements of all sectors in both countries and uniting the wills of the 2.6 billion people of the two countries, so as to form a force that would push bilateral ties into the future," the Chines president has been quoted as saying.
Prime Minister Modi saw the latest bilateral meeting as yet another instance to upgrade their relationship.
"Both leaders also remarked that in the last few months mutual trust has increased between the two sides," Mr Gokhale said.
President Xi told Mr Modi that he is very happy to accept his invitation to visit India for an informal summit, the second one, to be held in 2019.
"At Qingdao, both sides had agreed that the Chinese ministers for defence and public security would visit to India this year. At today's meeting, it was decided that these two visits would take place in August and October, respectively," Mr Gokhale said.
Meanwhile, it has been also decided that an Indian trade delegation will be travelling to China on August 1 and 2. Among the issues they are likely to discuss are exports of soya, sugar and non-basmati rice.
An Indian pharmaceutical delegation will also visit Shanghai in China on August 21 and 22.
M Modi and President Xi Jinping will meet again at the margins of the G20 summit in Argentina at the end of this year.
Chinese President called on the two sides to strengthen strategic communication, increase mutual trust, promote practical cooperation, as well as cultural and people-to-people exchanges.
Both China and India are countries of ancient civilizations, and have made important contributions to the advancement of human civilization, said Xi, according to reports.
UNI