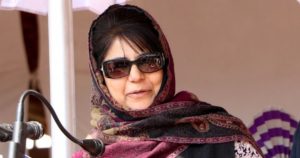 Srinagar: Former Chief Minister and the Peoples Democratic Party President Mehbooba Mufti has said that if Bhartiya Janta Party (BJP) led New Delhi government split her party to form the new government in the state, it would create more 'Salahuddins and Yasin Maliks — who were first to take arms after the 1987 elections were allegedly rigged".
Salahuddin, whose real name in Yousuf Shah, contested the election and Malik was his polling agent. However, it was alleged that the polls were rigged in favour of the National Conference-Congress coalition.
Shah ended up heading the Hizbul Muhahideen and Malik launched Jammu and Kashmir Liberation Front.
While talking to reporters after paying floral tributes to July 13 Martyrs, Mehbooba Mufti said:
"If Delhi tries to dismiss the voting rights of people like in 1987, if it tries to create divisions and interfere like that, then I think a Salahuddin and a Yasin Malik will be born. if it tries to break PDP like that, the outcome will be dangerous."
BJP, however, castigated her for these remarks saying that she is providing oxygen to the militants.
State BJP chief Ravinder Raina said, "Our priority is not government formation. We were in power in the state and had it been our priority we would not have walked away from the coalition government.  Our top most priority is restoration of normalcy in the Valley and peaceful conclusion of the ongoing Amarnath Yatra.  People should feel a sense of security which is the priority of every government but unfortunately it was not evident during the previous regime," he said.