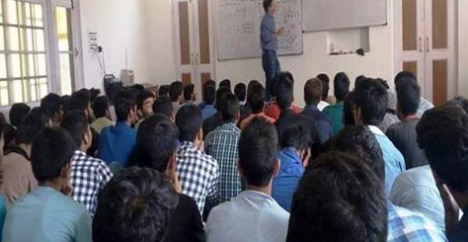 Srinagar: Right after finishing her Master's degree in sociology in the year 2010 from Kashmir University, Rafia  went dashing from pillar to post in search of a job.
After months of toil and depositing her academic bio-data at wherever she could cling to an opportunity, she ended up working as a teacher in one among the 476 private schools of the Srinagar.
The school authorities hired her against a meagre salary of Rupees 1850 each month which continued for a year.
"There were more than 1000 students in the school. Each student used to pay at least 1200 rupees a month as fee," 28 year old Rafia said.
"Yet the principal of the school paid us peanuts,".
Getting fed-up with the low wages for her hard work, Rafia left the job after working in the school for the three years.
"After five years when I left the work at the school, I was being paid Rupees 3500. You know the inflation has broken the back of common man. How could I have made my ends meet with such a meagre salary? I could not even manage my own expenses, let alone that of my family," she said.
Rafia now works  at a boutique.
Narrating her experince, she said despite working hard in the private school her work was never acknowledged by the school owners.
"They don't care about the amount of hard work you put in. All they want is to extract money from the students," she said.
"I have come to the conclusion that private schools means exploitation of teachers and other staff. They want teachers to work as slaves".
In the past decade or so the number of private schools has gone up considerably, so has the number of unemployed youth in the valley. With little employment opportunities, the youth mostly end up in working as teachers at a very meagre salary.
Mehak Aga, a 30 year old married woman, is one among many such women.
She starts her day at 6 am.
"I have to take care of my family and children. Hence I have to wake up early in the morning. By the time I sleep, I am  so tired that I am unable to go to the bed," Mehak said.
She teaches primary class students at a private school located in the downtown Srinagar.
"Teaching children is the hardest job ever, and all you are paid is Rs 3000 per month," Mehak said.
She said that she is compelled to work on such low wages because of their poor economic condition at home.
"My husband works in a private sector. He earns Rupees 8000 per month and we have a daughter to feed. I feel duty bound to help him with however little I get," Mehak said.
She said that her in-laws at many occasions asked her to stop working because of poor salary paid by the private school.
However with no other work options, she keeps working at the school which she terms as a "hell".
 "The work in the school is so much that sometimes you contemplate leaving. But then you think of the family and you continue working in such a pressure,"  Mehak said.
She said that the burden of work for the private teachers is huge and deserves much more in compensation than what they are being paid by the school owners.
 "I can say that a private teacher should be paid at least 30000 per month. We do school work even at our homes like when we have to prepare marks sheets and have to check exam papers," she said.
Not only are the private teachers paid less, but they are shown the door by the school authorities if the teachers start demanding hike in the wages.
Waseem Yusuf of Lal Bazar is one among the hundreds of such teachers.
Without disclosing the name of the private school where he worked, Waseem said he was thrown out of the school after he had demanded hike in his salary.
He worked for three years in a reputed Srinagar School.
Waseem, who has a master's degree in English literature along with B.ED, said he had started teaching in the school at 8000 per month.
"For three years I did not make any demands. When I requested the principal to hike my salary, he fired me," he said.
While talking to the government over the issue of low wages being paid to the private school teachers, the officials said they were helpless.
Joint Director, Directorate of school education Abid Hussain said that  they cannot do anything about the low salaries being paid to the private teachers.
"I don't have any information about it. This issue pertains to the private schools association and private schools. They are the one's who can  answer this," he said.