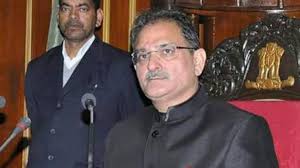 Srinagar: Former Deputy Chief Minister and senior Bharatiya Janata Party (BJP) leader, Kavinder Gupta on Tuesday said that there was no question of forming the government in Jammu and Kashmir.
"As of now the party is not going to forge any alliance to form the next dispensation in the State as we were in the government and left it recently," he said.
Gupta also said that at present, the Valley's security situation is not favourable for the government formation.
Asked about the recent statements of PDP MLA's wherein they apparently have expressed wish to go with any party to form the goverenment, Gupta said that the PDP leaders might have some agenda to utter against party's stand.
Referring to query about Union Home Minister, Rajnath Singh's visit to the Valley on Wednesday, former deputy CM said that his visit to Kashmir has no connection with the government formation as he will only review the security situation here.
Asked about Ram Madhav's recent visit to Kashmir, Gupta said that Madhav's recent visit was confined to party affairs. (Kashmir News Service)