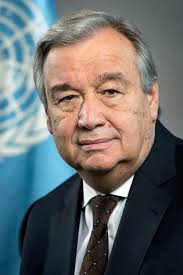 Srinagar: The United Nations (UN) has blamed both government forces and militant outfits for using children in carrying out operations in Kashmir in its annual report, the international watchdog body's secretary general Antonio Guteress revealed in a new report titled 'Children and armed conflict' on Thursday .
The report has squarely blamed militant organizations like Hizbul Mujahidin and Jaish-e-Mohammad using children as recruits in Jammu and Kashmir during clashes with government forces.
However, the secretary general also cited the unverified reports wherein it said 'India had employed children as spies and informants in Jammu and Kashmir while carrying out operations in Kashmir last year'.
The UN annual report on children and conflict covers situation of children in over twenty countries including the war-torn Afghanistan, Yemen and Syria.
Besides, the UN report also raised concern over occupation of educational institutions by paramilitary CRPF. The report claimed that over 20 schools were occupied by the CRPF alone in Srinagar.
It also talked about the increased tensions in Kashmir region leading to the closure of schools in the state.
The UN report said school closures had affected the education of children, particularly showing concern for the border districts of Rajouri and Poonch where schools remained closed for 65 and 76 days respectively.
The report criticized the killing of children under the pretext of operations of government forces against rebel groups in Naxal dominated areas of India and Jammu and Kashmir.
The UN report also took note of an incident that occurred in South Kashmir's Pulwama district where a 15 year old boy was killed by government forces during an encounter with Lashkar-e-Toiba (militants).
Quoting government figures the report said 188 civilians were killed in Naxalite affected regions of India, although no disaggregated data on children were available.
Guterres asked the Indian government to put in place measures to hold perpetrators of child and use to account and engage with the UN to end and prevent violations against children.
The annual report of UN secretary general covering the January-December 2017 period, said globally over 10 thousand children were killed or maimed in conflict last year, while more than eight thousand were recruited or used as combatants.
This is the second report by UN in less than a month that has criticized Indian actions in the state of Jammu and Kahsmir, earlier in a 49 page report on human rights violation in Kashmir, the United Nations had accused the Indian armed groups of carrying out gross human rights violations in Kashmir which the india had rejected as "fallacious' "motivated".