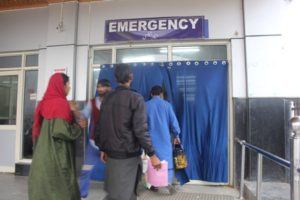 By Ubair Ul Hameed
Baramulla: Lack of infrastructure, in decades old building and stinking bathrooms has severely hit the patient care at Baramulla district hospital.
The locals said the authorities have failed to upgrade the age old building of the hospital while as the network of alleys surrounding the health care facility are so congested with the litter that it hinders the movement.
There is also lack of space in the hospital which often leads to overcrowding of patients outside and inside the wards.
"Not only patients, doctors and paramedics are facing a lot of inconvenience due to the overcrowding," an employee of the hospital said.
The employee said the doctors have to accommodate 10-15 patients at a time in their rooms due to space crunch.
A patient, Aquib Ahmad, who had come to see doctors in the hospital, said that the condition of hospital was worse.
"Washrooms are in dirty condition. They emit foul smell. The taps and wash basins are broken thus exposing patients to infection and other communicable diseases," Ahmad said.
Inside hospital wards, the patients complained that the hospital authorities use bed sheets with blood stains to cover the beds.
They also said chairs inside the hospital were broken while as there was no effective waste management system to dispose the rubbish.
As such, the patients mostly avoid visiting the hospital and visit Srinagar for medical treatment even for the minor ailments, the said.
The medical superintendent of Baramulla sub-district hospital, Syed Masood, however, blamed the public for the messy condition of the hospital.
He said people even stole hospital belongings which forced the authorities to close indoor and outdoor patient department or most of the time.
"People also vandalized the washrooms. We will not repair them as it makes no sense now," Masood said.